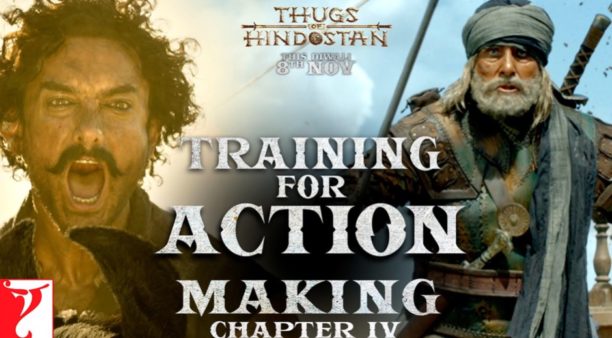 Thugs of Hindostan, starring two of the biggest legends of Indian cinema – Amitabh Bachchan (who plays the role of the fierce warrior Khudabaksh) and Aamir Khan (the wily and not to be trusted Firangi) promises to be a larger than life epic action packed tale. This highly, did we say highly, highly anticipated film, boasts of jaw-dropping action sequences that have been pulled off by both Amitabh Bachchan and Aamir Khan. They had to go through rigorous action training before they shot the intricate and exhaustive action sequences. In fact, both legends learnt sword fighting for the film's extravagant action sequences as well boxing and even climbing, diving, rolling to evade and more.
Amitabh Bachchan says, "So much before we actually went through these sequences, Viktor and Adi had said maybe you should train a bit. So, we are doing a lot of sword moments in the gym. There is a lot of action whether it is jumping off a building, doing somersaults, diving, climbing up. These were all done live. If you have committed yourself to a project then I guess you have to put aside all apprehensions and challenges and do what is been asked to do."
Aamir adds, "Just before I did Thugs, I did Dangal. Two of us (Fatima and I) were training for a year and a half in wrestling, and in wrestling the stance is very low. You bend at the waist and you stand as low as possible. So instinctively, I use to stand low, so they had to try and get that out of me. A lot of initial training went into boxing, kicking, rolling, sword fighting. A lot of that was done which gave us a good foundation for this kind of a film."
Check it out!

The film also stars Katrina Kaif as the gorgeous performer Suraiyya and Fatima Sana Shaikh as the daredevil Zafira. YRF's mega action entertainer, Thugs of Hindostan, is set to release on November 8, a national holiday, in Hindi, Tamil and Telugu.
Also as a treat check out the new poster!