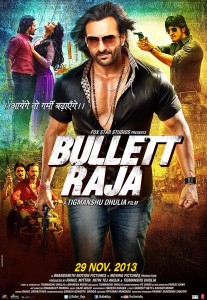 As a south filmgoer and Bollywood naach-gaana fanatic, masala fest movies are not new to me. Yet even when a film has all the trimmings of a throwback action film, there are guarantees it will work. Sajid Khan's Himmatwala is testimony to that. Tigmanshu Dhulia is stepping into the commercial arena with Bullet Raja starring Saif Ali Khan, Jimmy Shergill and Sonakshi Sinha. The intention is to make a masala topped entertainer. The result is a film that throws at you every known cliche possible while bringing back some of the Dhulia style.
Raja (Saif Ali Khan) aka Bullet Raja and his best bud Rudra (Jimmy Shergill) lead this rise of a commoner to become a dreaded gangster with the love angle covered by Mitali played by Sonakshi Sinha. But for every rise, there is a fall and that's where Sharp Shooter-come-local law enforcement Inspector (Vidyut Jamwal) comes in. How this happens and who becomes the unsuspecting friend in need and foe in sheeps clothing forms the rest of the story.
The one thing you can bank on in a Tigmashu directorial is a surprise package and fireball writing. The stuff that made the greats known for their commercial success. Saif Ali Khan may not be known for his masalafest films but everyone remember his killer performance of Langda Tiyagi when you mention Omkara. Probably his most ruffian role to date, it is matched and taken up a notch with Bullet Raja. But the surprise packet isn't his transformation. It's not even Sonakshi Sinha, who may be the exception from the norm in modern day heroine types but she still doesn't get to do much with this film. It's Jimmy Shergill once again. The actor has played sidekick, best friend, miniscule role that has no significance so many times but we have secretly wished for more from the actor. Yes, he is the best friend bud the actor plays his role of Rudra to the T. Vidyut Jamwal is a professional martial artist and you know he does his stunts with precision and care, yet the is nothing to stop you from gasping and going 'woah' from the moves he makes. Ravi Kishan and Chunkey Pandey do what they need to and that's what you get. Although Ravi doubles up on the screen time with his 'Radha' performance. It's nice to see Gulshan Grover back on the big screen but i was expecting more. The rest are apt.
Yet even as you think that's nice about the performances, you know something is missing. It's not completely the writing (Tigmanshu Dhulia and Amaresh Misra) since the firebrand writing is visible even in the dialogue and excuses the infinite versions of the story we have seen before. The music is by Sajid-Wajid is as dime a dozen as they can get so it does register as a component. When you think about it boils down to one simple fact. The name Tigmanshu Dhulia. Synonymous with some highly critically acclaimed films like Paan Singh Tomar and Saheb, Biwi and Gangster, you expect something from him. Something will knock you socks off. Nothing grand required but something. That is what's missing. As mentioned, the film has all the trimmings that the aam-janta want. So in essence, the deal is done for the director saheb. But not for someone expecting his brand of films.
So take a deep breath, forget the past and you will walk away from the film thinking 'time-pass'. Otherwise, you will be severely disappointed with there being nothing new at all. Just a bunch of performers, trying to make a kid's toy gun look real.