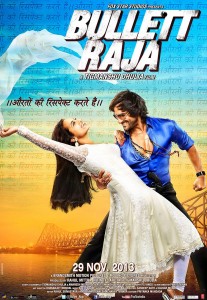 Tigmanshu Dhulia's Bullett Raja is a forthcoming action flick that will see Saif Ali Khan and Sonakshi Sinha pairing up for the first time. The film also has Jimmy Shergill, Chunkey Pandey, Gulshan Grover and Vidyut Jamwal in supporting roles and will be releasing in cinemas as of 29 November 2013. Though the makers are doing their best to not give too much away, the film is essentially based in West Bengal and on a common man who transforms into a gangster. The music to Bullett Raja has been composed by the famous Sajid-Wajid, who have given us classics such as Dabangg (2010). RDB are guest composers in the album and they provide us with the song 'Tamanche Pe Disco.' The lyrics have been written by a number of lyricists who include Sandeep Nath, Kausar Munir, Shabbir Ahmed and Raftaar. So is Bullett Raja a soundtrack worth checking out? Read onto uncover our verdict!
The first track is Tamanche Pe Disco, which has been performed by RDB, Nindy Kaur and Raftaar. The song has cool 'desi' and techno elements which will certainly be appreciated by the modern music listener. Also the vocals have been well-arranged in order to give it that edgy touch. Overall, this is a respectably composed track which will most likely win a place in someone's iPod playlist.
Next up we have Saamne Hai Savera, which is sung by Shreya Ghoshal, Wajid and Bonny Chakraborty. I loved Shreya's silky voice in this one, which makes the song run very smoothly. In addition, the music complements the vocals well with the use of a variety of instruments such as the violin and the trumpet. I would consider this to be one of the big highlight of the soundtrack so take our word for it and check it out!
Following this we have Jai Govinda Jai Gopala and is performed by Neeraj Shrindar. I wouldn't consider this song to be a winner as it lacks flavour and could have been arranged better. Although Neeraj sings well, I found the music to be the major flaw with this particular track. There is a Remix version to this song included in the soundtrack also. Designed as a club-oriented track, it unfortunately fails to make an impression on you. The album would have been better off without any remixes included in it, as this one just feels like Sajid-Wajid are trying to fill some kind of gap.
We then have Don't Touch My Body, which is sung by Mamta Sharma. The song has a number of qualities to it that has been inspired from the various 'mujra' songs that have emerged from Bollywood in the past few decades. However, it sadly does not work in the way in which Sajid-Wajid may have envisaged. Moreover, I found Mamta's vocals to be dull and uncomplimentary to the theme of this song. Given that she is a talented singer, her voice would be well-suited to a romantic number, in contrast to this. Hence, skip this one as it has no appeal to it whatsoever.
There is also the title track Bullett Raja and has Wajid and Keerthi Sagathia providing the vocals. I like the heavy use of the drums, bass and the trumpets, which makes it a song that will appeal more to the guys rather than the girls. Also Wajid delivers a great performance that makes it all the more intriguing to listen to. Therefore, do give it a listen since it can be classified as a very good effort overall.
Finally we have Satake Thoko, which is sung by Wajid, Keerthi Sagathia and Danish Sabri. Despite the up-tempo theme of the song, sadly it doesn't have any long lasting appeal to it. It was boring to listen to and I don't think it would sound any better if improvements were made to it. It goes without saying then that you should give it a miss since you will only be left disappointed!
To sum up, the music to Bullett Raja is nothing special and is just one of the many disappointing soundtracks to release this year. Though three out of its seven songs are decent and can be deemed as listening material; the rest just makes you want to abandon them and listen to something more exciting instead. I only hope that the film will leave a bigger mark on us Bollywood lovers compared to its lackluster soundtrack.