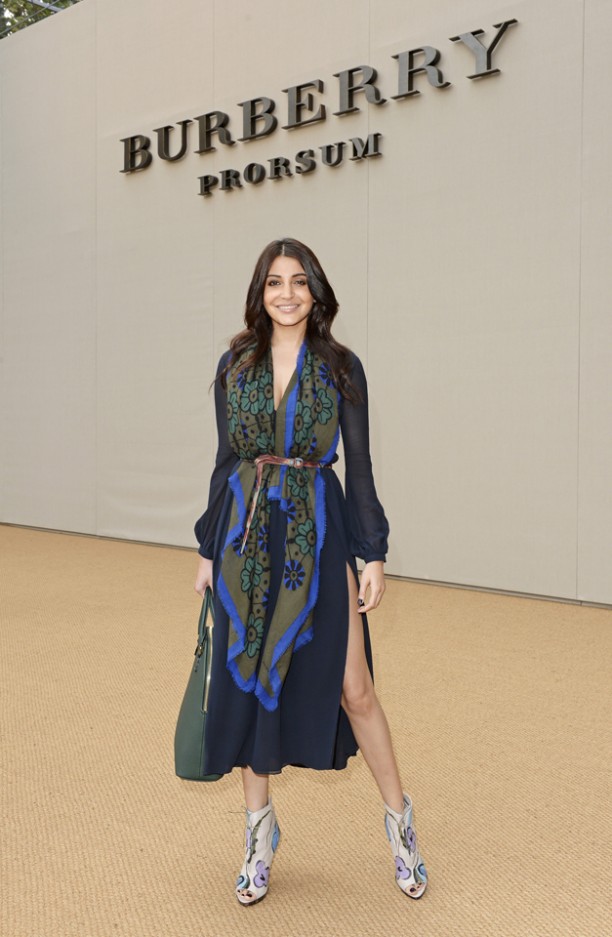 Burberry previewed its Prorsum Womenswear Spring/Summer 2015 collection, live from its custom-built venue in London's Kensington Gardens. Bollywood Beauty Anushka Sharma was one of the A-list attendees to enjoy the show and the new line.
The collection, named 'The Birds and The Bees', includes bright book cover designs, oversize butterfly prints and hand-drawn honey bees, which were referenced on the hand-painted runway and illustrated on the transparent roof above the 1500 guests. British singer-songwriter and Burberry Acoustic musician James Bay performed the live soundtrack to the show.
Guests included British models Kate Moss and Cara Delevingne, who appear together in the current My Burberry fragrance campaign, as well as photographer Mario Testino; actors Naomie Harris, Dakota Johnson, Vicki Zhao, Ko So Young, Gala Gordon, Jamie Campbell Bower, Anushka Sharma and Araya A. Hargate; musicians Paloma Faith, Rae Morris, Rhodes, and Joey Yung; model Amber Le Bon, media personalities Cat Deeley, Donna Air, Olivia Palermo, Raya Abirached, Elena Perminova and Harvey Weinstein.
DIGITAL INNOVATION CONTINUES
In-Tweet Purchasing: This latest step in the brand's digital evolution offers a new way for Burberry customers to shop. Twitter customers in the US were given the first opportunity to purchase a limited number of the new S/S15 runway nail colours in-tweet, as soon as they appeared on the runway.
Runway Made to Order on Burberry.com: Outerwear and bags from the collection are now available to purchase and personalise exclusively on Burberry.com until Monday 29 September. Pieces from the runway will be made to order for delivery within nine weeks, allowing customers to be the first to own pieces from the collection, months before it arrives in store.
PARTNERING WITH YOUTUBE TO GO BACKSTAGE & BEYOND
In another digital collaboration Burberry has partnered with YouTube to massively extend the access audiences have to different elements of the S/S15 show and its content. Using new beta YouTube functionality, viewers are able to watch highlights from the show within which they can seamlessly move from one dimension of the experience to the next through layers of content.
The film reveals stories behind the season's inspiration, the show's soundtrack, the latest make-up look and reactions from the guests as they took their seats. Discover backstage and beyond here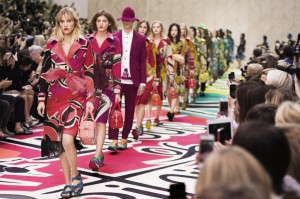 EXPERIENCING THE SHOW IN REAL-TIME
Viewers globally were given more real-time runway access than ever before, across Burberry's global social media platforms:
-The show live stream was available for the first time through WeChat and Chinese film director and actress Vicki Zhao provided exclusive commentary on her show experience
-Leveraging Hyperlapse, Instagram's new stand-alone app, Burberry published time-lapse videos to bring the show countdown to life
-Live, instant publishing from the show on Facebook, Twitter, Instagram, Vine and Sina Weibo
THE COLLECTION: THE BIRDS AND THE BEES
Fabrics: Printed honey gabardine, dégradé silk and suede, wing-pleat tulle, butterfly printed satin, iridescent sequins, indigo denim, glossy shell leather, shearling, textured silk
Colours: Poppy red, fern yellow, pale sweet pea, dragonfly blue, beetle green, rosehip
Silhouettes: Trench coats, wasp waist denim jackets, layered tulle dresses, field jackets, draped skirts
Accessories: Introducing the Burberry Bee Bag, the Burberry Mini Bee Bag, book cover print pouches, the Burberry Field Sneaker, the Burberry Field Sandal, the Burberry Dragonfly Belt
Eyewear: Introducing the Burberry Butterfly Shades, now available for purchase and monogramming exclusively at Sunglasshut.com (US, UK & Australia)
BURBERRY BEAUTY
Introducing The Birds and The Bees Make-Up look, featuring an iridescent glow, tawny eyes with nude hues and deep ruby red lips. Previewing nails in shades of blue, green, azalea and hydrangea pinks. Models wore the new My Burberry fragrance. Guests wearing Burberry Make-Up included Cara Delevingne, Poppy Delevingne, Joey Yung, Elena Perminova, Raya Abirached, Anushka Sharma and Vicki Zhao.