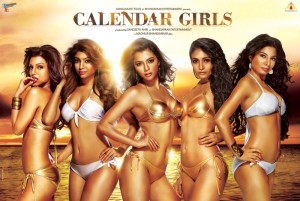 Looks like the cast and crew of Madhur Bhandarkar's Calendar Girls had a lot on fun on sets. Apparently shooting at exotic locations is also an opportunity to prank each other. However this time, it was the five new comers who were at the receiving end. What a way to welcome them to Bollywood! On one occasion the choreography team very swiftly disappeared with the boat, leaving the girls stranded at sea.
Recalling this incident Akansha Puri says, "It was so difficult to stand on the slippery stones for 20 minutes. We held each other tightly as there was a mild water current underneath and we had to stop ourselves from slipping. Instead of shouting for help we kept singing the 'Awesome Mora Mahiya' song till the crew resurfaced with the boat."
Soon after, the girls were punked once again while shooting on an isolated island. A chopper flying over was filming a scene when all of a sudden it went out of sight. The girls were frantic until the helicopter came back into their horizon. That's when these girls realized what a prankster their director and his team were.