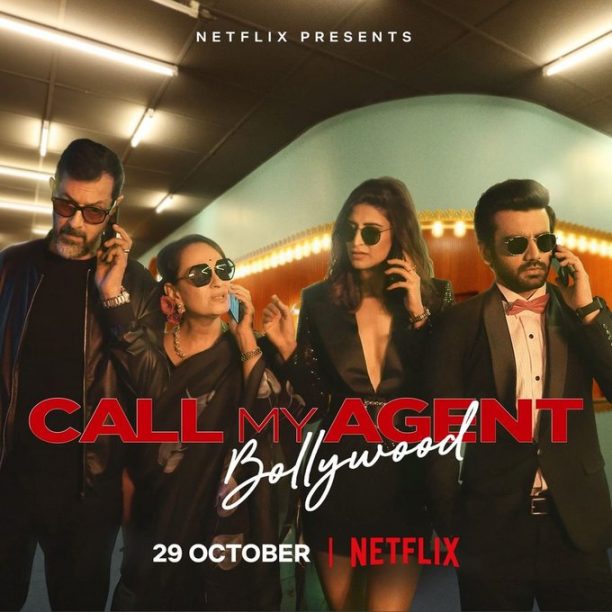 Call My Agent(Netflix, 6 Episodes)
Directed by Shaad Ali
This adorable adaptation of the 2015 French series is the picture-perfect post-pandemic panacea with a heart that beats and loins that throb. It is everything that an adaptation should be: respectful to the original but not slavishly so.
Slave reminds of Ali Fazal who in one of the sexy sextet of episodes plays a medieval slave to Richa Chadha. For a film being directed by Hussain Dalal (who by the way has co-written this arresting adaptation along with his brother Abbas, and what a wonderful job they've done). Now , hear this. According to the script, Rich and Ali have broken up and must now perform a ferocious love-making scene for the camera. Ha ha ha.
The series is littered with such luscious inhouse jokes about Bollywood, like Tigmanshu Dhulia making a film called Paiydashi Killer co-starring Lilette Dubey and Ila Arun who, according to the script, can't stand one another.The two actresses just kill it in the catfights. Nandita Das lets her beautiful hair down to play an actress-filmmaker trying to make a hat-kar masala movie with Jackie Shroff. The film is supposed to star Jackie and a canine. Teri Meherbaniya, Part 2?
Sarika and her real-life daughter Akshara are imagined as a warring mother-daughter, a kind of Bergman burlesque with Farah Khan trying to convince the two to do a film together. My favourite cameo is at the beginning of the series by Dia Mirza. She is an "aging" star who must choose plastic surgery for a Hollywood part. Ms Mirza made me think of how unfair our movie industry is to some actresses, Mirza included.
But it's the permanent characters of the plot, played so wonderfully by a gallery of insanely talented actors, who won me over. Playing professionals in a on-the-skids talent-management agency, these actors are so good at their jobs, they make their onscreen jobs look real. You don't have to be film PR person to recognize them and their constant coping with star-tantrums.
Specially pre-eminent are Rajat Kapoor as the quietly manipulative Monty, a senior at the agency who must accept his illegitimate daughter Nia (played by social influencer Radhika Seth) before the show is done, and Aahana Kumra, the fearless feisty firefighter of an actress who doesn't mind looking ridiculous if the need arises. Aahana plays Amaal, a kamaal ki lesbian with temper tantrums problems who more than meets her match in Jasleen(Anuschka Sawhney), a tax assessor with has the hots for Amaal. Their romance plays out like a rippling riff in a buxom musical refrain that is warm intimate relatable and sometimes sad.
I loved almost every character specially the Agency's North-eastern receptionist Nancy(Merenla Imsong) who nurses a secret desire to be an actress. There are some exceptional actors at work here. The discovery of the series is Ayush Mehra as Meher a Parsi boy who is ambitious but not heartless, who walks around at home in his traditional night outfit and is quite a ladies' man at work.
Come to think of it, every actor gets to play a real fleshed-out characters with desires so tangible they seem desirable even in their worst moments. You don't have to know Bollywood inside-out to love this show. You just have to know a bit about human nature. The series takes care of the rest. Don't miss it.