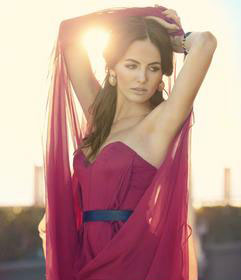 Hollywood actress Camilla Belle has been in India promoting her latest Indo-Canadian production Breakaway and whilst on promotions the star revealed she would love to star in an out and out Bollywood movie.
The 25-year-old actress, who has starred in movies such as The Lost World: Jurassic Park and 10,000 BC, told the media, "If I am offered a film here, I would grab the opportunity." Camilla went on to say, "I love the way films are made here. I am so fond of song-dance sequences."
This was the first visit to India for Camilla and she was full of praises for the country telling the media, "It's been a great experience coming to India. There are so many places to see and go I am just having a great time. I always wanted to come to India, I think it is a photographers dream. It's a beautiful country."
Camilla Belle who plays the female lead in Breakaway told the media the reason behind taking on the role of Melissa Winters was because of the 'cultural element.' The actress found the 'father-son relationship' touching. The actress went on to tell the media, "I come from a multi-cultural background, my mom is Brazilian, and I have been raised in the west and I have always struggled to find who am I. This film is about love and bond in a family which has been missing in the west."
Robert Lieberman directs this weeks release Breakaway. The film stars Vinay Virmani, Russell Peters and Anupam Kher in lead roles. Akshay Kumar and Ludacris make a cameo in the movie.