The cast of the much-anticipated comedy drama The Hundred Foot Journey attended a press conference in London on Tuesday to promote and speak about the film. The Hollywood film, which has a French and Indian theme to it, has been directed by Lasse Hallstrom and produced by Steven Spielberg, Oprah Winfrey and Juliet Blake and is based on the novel by Richard Morais. Starring Helen Mirren, Om Puri, Manish Dayal and Charlotte Le Bon in pivotal roles, The Hundred Foot Journey is a quirky, yet gratifying tale which anyone who is a big foodie will certainly relish. The music has been composed by the charismatic A R Rahman, who offers some nice and mellow compositions to accompany the film.
Asked during the press conference if he found it intimidating in any way to work with acting stalwarts such as Helen and Om, Manish Dayal had this to say. "I'd say definitely. I got the chance to observe and work with these two hugely prolific and talented actors. At first it was intimidating and I was overwhelmed in the very beginning, even before I got to France. I quickly got to know Helen over a three hour long dinner the day we got there. And Omji and I clicked very fast and I got to know him offset quickly; which helped us worked together onset and I became less intimidated after a while." Helen made the press laugh by mentioning that she forced Manish to try escargot (snails) whilst shooting for the film and he did not hesitate at all to eat it.
Speaking about her skills in the kitchen, Helen mentioned that she is not as good of a cook compared to Om. "I do incredible baked beans on toast" (audience laughs). "I'm not much of a cook but I love food and love to eat, but I've never been a great cook." So I was very grateful to Manish and the caterers in France."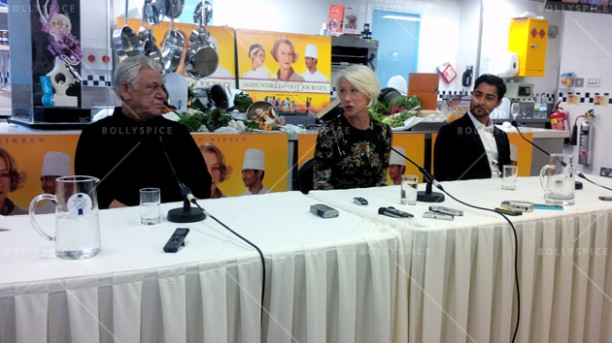 Om stated that he considers cooking therapeutic and has been doing so since he was at a very young age. "I have been cooking from the age of fourteen. In school I was a boy scout and one of their activities was cooking and there used to be competitions. Plus I used to watch my mother and if we went to anybody's house and there was a particular dish which I have never had, I would be curious and ask 'how did you prepare it' and 'what did you put in it.' So I enjoy it, I find it relaxing and it's like doing yoga for me."
BollySpice was at the press conference and we asked the cast what it was like to work with director Lasse Hallstrom. Responding to this first was Manish who said the following. "Working with Lasse Hallstrom really keeps you on your toes. His vision, no matter what, is always evolving and always changing and he could blurt out something to you in the middle of a take, which you might disagree with; but its genius and always seems to work. There was never planning anything and as an actor that's really fun to be alive in the moment like that."
"It's very true and he warned me right before we started shooting," added Helen. "He said 'I'll probably change things around' and 'I'll ask you to improvise' and 'I like to keep things loose.' And that's very true. He would change or have an idea suddenly and go for it. You didn't feel that you were in a prepared kind of rut that you had to follow. It was very loose and sometimes that was frightening and you felt wrong footed by it. But it was always exciting and it was great."
Om also spoke about his experience of working with the director and mentioned this. "He's a self-trained man and he didn't go to any kind of school to do any training on direction. I think perhaps considering his behaviour on the set is one of the reasons why he discovered things for himself. So therefore he expects the actors to discover things for themselves. The most important line which he said to me that stuck in my head was 'Om the take was nice but I want you to mess it up'. I got confused but what he meant was when you're awkward or hesitant and you're not always perfect, just like in real life; he meant that."
The Hundred Foot Journey is in cinemas now. If you need any further convincing as to why you should go and watch this great film, then check out the trailer below.
www.youtube.com/watch?v=yEO1TWeM5JU
Also check out the great pictures from the London press conference!