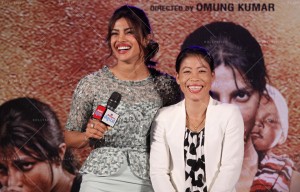 Director Omung Kumar has been talking about his upcoming film Mary Kom, which is set to release on September 5.
Despite being his directorial debut, the director was able to cast a mainstream actress such as Priyanka Chopra, which he considers it has been essential for the promotion and visibility of the film. "This is my debut film, and as a director, this film should work commercially as well. Had I cast any newcomer for this film, people would have ignored the posters", he recently told IANS.
Kumar knows that the actress' mass appeal will draw the audience to cinemas to watch the film. In fact, it has already had a positive effect during the promotion, as the trailer has over four million views on YouTube. "Now people are talking about the poster and the trailer, which means people are liking it and it's all thanks to Priyanka. Priyanka will add commercial value to Mary Kom," the director added.
Similarly, the actress of Barfi! also talked about her work in the film during the music launch celebrated on Wednesday. "For me work is worship, I don't compare it with money. I do lot of hard work (for my films). If I get money, great, otherwise I will do a film like this only (free)," she said.
Since she first got involved in the project, Priyanka felt a connection with Mary Kom's life. "Mary's life is extremely inspiring. We have similarity like not the diamond and boxing ring, but in terms of our upbringing and where we come from and the fact that we two women stood alone in a male-dominated field," she told reporters.
It is well known that the actress has worked very hard to incarnate Mary Kom. "My biggest stress was as this film was based on Mary, I should be able to do justice to her personality," Priyanka said.