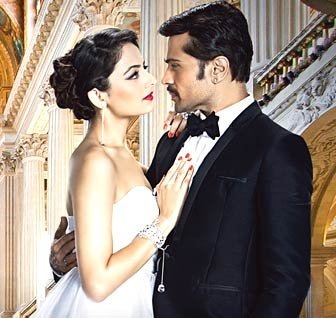 Music director, singer, actor and producer Himesh Reshammiya is back and this time he will be playing the character of Ravi Kumar in his forthcoming HR Musik home production The Xpose! The Xpose is produced by Himesh's father Vipin Reshammiya.
Himesh has worked very hard on his look for this film, reinventing himself once again and losing 20kg to reveal this new super sleek avatar.
The Xpose is a murder mystery set in the glamorous back drop of the 1960's where as said in the trailer: "Ye Kahaani Uss Daur Ki Hain Jab Film Issh-Star Log Apni Filmon Ki Tarah Larger Than Life Thay…" The story has been written by Himesh himself with dialogues by Bunty Rathore and has been directed by National Award winning director Ananth Mahadevan. The story is said to be based on the then "famous" scuffle between top actresses Zeenat Aman & Parveen Babi. The Xpose launches two newcomers Zoya Afroz and Sonali Raut. The film also features rapper YoYo Honey Singh in a negative role and stars Irrfan Khan in a special appearance along with actors Adil Hussain and Naresh Suri.
With Himesh Reshammiya at the helm of the music, people are rejoicing his comeback. Five song promos from the film have released already (Ice Cream, Dard Dilo Ke, Hai Apna Dil, Dard Dilo Ke Reprise, Surroor) featuring a host of new singers plus Himesh himself. The soundtrack of the film (18 tracks in total, including remixes) released on 14th April, 2014 and has been garnering great reviews ever since its release. If you missed Himesh Reshammiya, it is time to welcome the music maestro back and breathe a sigh of relief, as he shakes up the Bollywood music scene once again!
Watch the trailer below and get set to solve this mystery on 16th May 2014! Raaton Ko Churalu Neend Din Main Churalu Tera Chain…Catch Me If You Can, Baby Catch Me If You Can…
Special thanks to  www.himesh-reshammiya.com