Last Sunday was a day of celebration in India and Bollywood… The reason was the famous Hindu festival called "Raksha Bandhan" (Rakhi) which is to celebrate the love and the bond between sisters and brothers… So let's see what our bollywood stars had to say!
Happy rakshabhandan to my baby brothers !!!! @sanjay_act pic.twitter.com/vRhTSrBqzb

— shruti haasan (@shrutihaasan) August 10, 2014
How is every1doing ? Happy Belated Rakhee 2 all who celebrate ! Sadly I had 2 post mine since I'm traveling. Thank god 4 brothers 😉 Ting !

— Preity zinta (@realpreityzinta) August 11, 2014
Recieved sweetest cupcakes from my bro Soham for Rakhi:) http://t.co/qcDQe7wfIe

— Bipasha Basu (@bipsluvurself) August 10, 2014
Still remmber d day dis pic ws takn,brthers n sisters probably share d most simple bond of love. Happy rakhee 2 all. pic.twitter.com/X3VFoArwB7

— Hrithik Roshan (@iHrithik) August 10, 2014
Siblings are a blessing….no matter what the differences are they are irreplaceable ….#HappyRakshaBandhan

— Karan Johar (@karanjohar) August 10, 2014
Humaira Malik gets nostalgic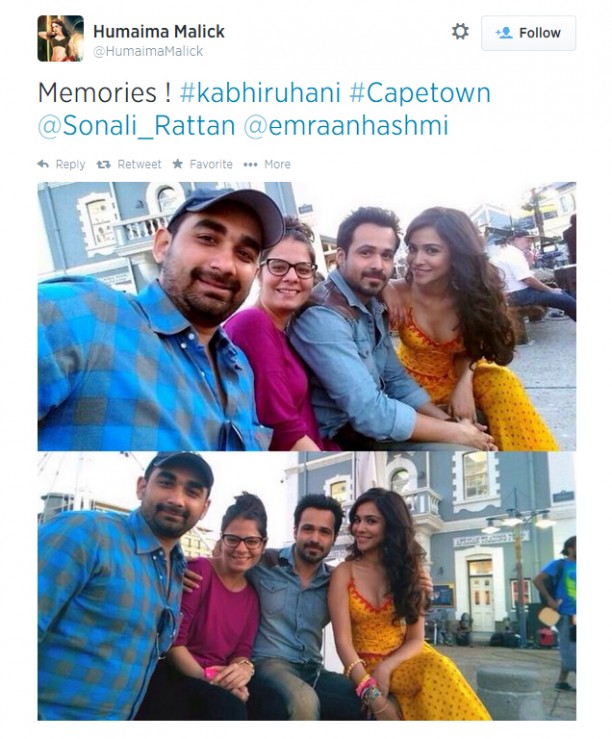 SRK & Neha Dhupia Hot New Selfie
Priyanka Chopra's new little friend
Alia Bhatt gets a special gift from Abhishek Bachchan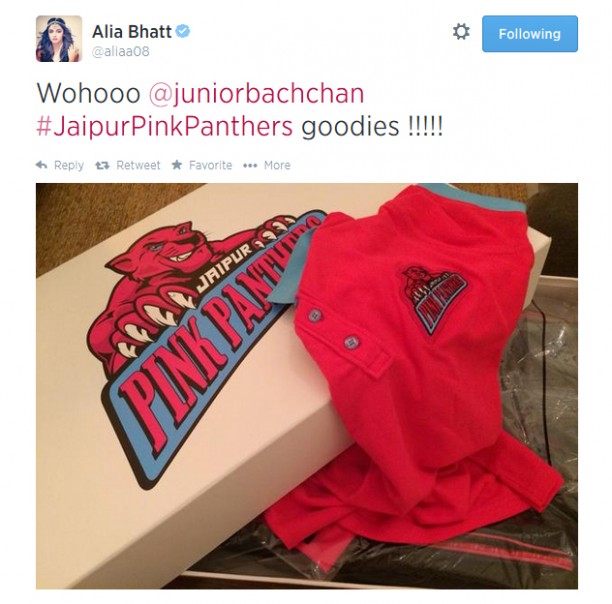 Amitabh Bachchan's romantic flashback on Twitter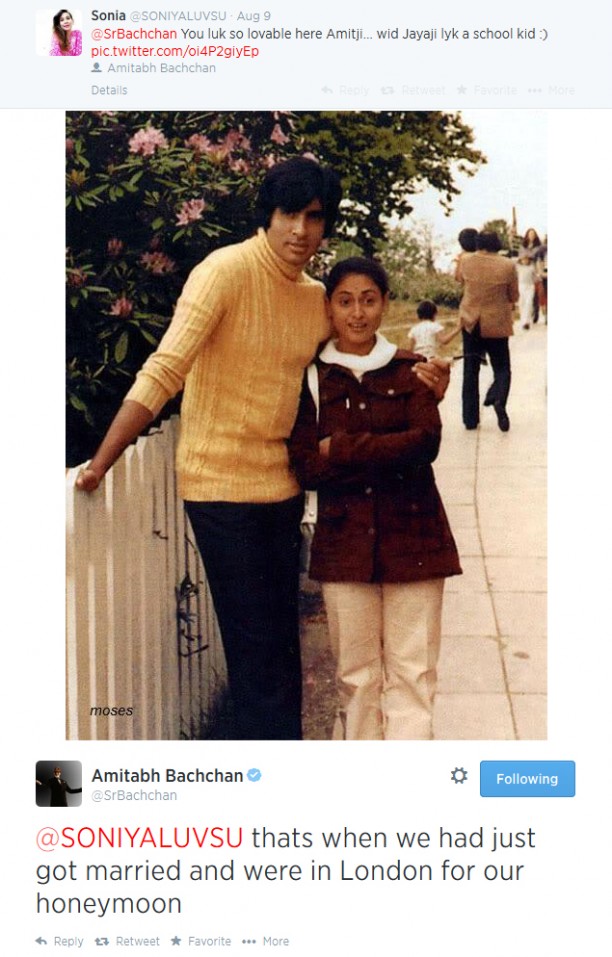 Mahesh Bhatt & Emraan Hashmi's clash
Emraan Hasmi & his uncle have always been known for being a great team and delivering great hits like Gangster.
But it seems that Emraan has other priorities. The "serial kisser" of Bollywood, has chosen to promote his movie Raja Natwarlal for 10 days that he, initially, reserved to shoot Bhatt's movie Mr.X.
Mahesh Bhatt chose the public platform Twitter to show his dissatisfaction regarding Emraan's behavior…
It's Emraan Vs the Bhatts now! – Mumbai Mirror http://t.co/KMxVjWVUbb

— Mahesh Bhatt (@MaheshNBhatt) August 11, 2014
Gratitude is the life blood of any meaningful relationship. I am grateful to Emraan for giving his best to us. But is his grateful to us?

— Mahesh Bhatt (@MaheshNBhatt) August 11, 2014
Brand Emraan stands on the bedrock of Vishesh Films.We have huge emotional investment in him.He can run from this fact but not hide from it

— Mahesh Bhatt (@MaheshNBhatt) August 11, 2014
Sometimes my producer should understand and accept that my film with a rival production house will benefit his !! A win win for all . 🙂

— emraan hashmi (@emraanhashmi) August 11, 2014
Bollywood saddened by Robin Williams' death
The world woke up to the shocking news of the passing of one of the most iconic actors of Hollywood, Robin Williams, who was known for making the world laugh with his movies like Mrs. Doubtfire, Jack and Flubber. He was found dead in his apartment, on Monday August 11th. Bollywood tweeted:
"To have no yesterday, and no to-morrow. To forget time, to forgive life, to be at peace"….may death be so for My Captain. RIP Mr. Williams

— Shah Rukh Khan (@iamsrk) August 12, 2014
Woke up to the awful and tragic news of Mr. Robbin Williams.He touched our hearts through so many wonderful characters.RIP captain o captain

— arjun rampal (@rampalarjun) August 12, 2014
Oh captain, my…… terrible news about the passing of one of my favourite actors. Mr. Robin Williams.This is the 1st time he made anyone cry.

— Abhishek Bachchan (@juniorbachchan) August 12, 2014
T 1576 -Lost in person Robin Williams .. his versatility extraordinary, his best though to me was his stage standup solo performances !!

— Amitabh Bachchan (@SrBachchan) August 12, 2014
So disturbed since I heard of Robin Williams untimely demise.My childhood is peppered with his laughter.How hopeless must he have felt.RIP

— PRIYANKA Aka Ayesha (@priyankachopra) August 12, 2014
https://twitter.com/nargisfakhri/status/499056423670521860
RIP Robin Williams ,U ve left us with so much to laugh abt with ur performances .But u ve gone too soon! so sad .. pic.twitter.com/xhp02S6d17

— Neha Dhupia (@NehaDhupia) August 12, 2014
Shattered to hear #RIPRobinWilliams RT @atulkasbekar: Brilliant! "@udaychopra: #RIPRobinWilliams to remember him http://t.co/obYdhvg9B5 "

— Tara Sharma Saluja (@tarasharmasaluj) August 12, 2014
He made the world laugh and forget every sadness, but he found nothing in the world to ease his depression. Heartrending.

— milind soman (@milindrunning) August 12, 2014
Everyone you meet today could b secretly fighting their own battle in life! Show them kindness, don't be the one to tip them over the edge.

— Preeti Desai (@misspreetidesai) August 12, 2014
"@timesofindia: Robin Williams, Oscar-winning Hollywood actor, dies.. http://t.co/jSt0GNBSfq". I AM Heart broken.. A Poet DEPARTS.RIP Sir.

— Ranganathan Madhavan (@ActorMadhavan) August 12, 2014
This is just too sad…..RIP Robin Williams….

— Karan Johar (@karanjohar) August 12, 2014
No amount of thank-yous are enough – yet thank you – Robin Williams -RIP

— Riteish Deshmukh (@Riteishd) August 12, 2014
#RIPRobinWilliams shocking to hear this… Here is a scene to remember him by http://t.co/SjA5O3qt78 #WhatWillYourVerseBe?

— Uday Chopra (@udaychopra) August 12, 2014
"You're only given one little spark of madness. You mustn't lose it" #RIPRobinWilliams

— Shruti Seth (@SethShruti) August 12, 2014
Robin Williams. What a loss! You leave behind a vaccum difficult to fill but your remarkable body of work will continue to inspire. RIP

— Azmi Shabana (@AzmiShabana) August 12, 2014
Such terrible news to start the day. Shocked and saddened with the passing of a childhood hero. RIP, Robin Williams.

— रanviर_ डhoरeय_ (@RanvirShorey) August 12, 2014
R I P robin Williams!

— Divya Dutta (@divyadutta25) August 12, 2014
RIP Robin Williams u will always remain in my memory as Mrs doubtfire…hope u find happiness up there u mad genius…

— Arjun Kapoor (@arjunk26) August 12, 2014
The man that brought us so much laughter and joy committed suicide? Who knows the internal conflicts of the creative mind #RIPRobinWilliams

— Shekhar Kapur (@shekharkapur) August 12, 2014
My childhood would have been incomplete without #MrsDoubtfire #Flubber #Jumanji and so many more of his films… #RobinWilliams

— Dia Mirza (@deespeak) August 12, 2014
Heart-breaking. The world has lost one of it's most wonderful artists. U made me laugh, cry & believe.. "Carpe Diem". #RIPRobinWilliams

— SOPHIE CHOUDRY (@Sophie_Choudry) August 12, 2014
Robin Williams passed away. One of the defining faces of comedy, energy and talent in our lives. What a huge loss. Rest in peace great one.

— Siddharth (@Actor_Siddharth) August 11, 2014
Oh god.. How do u tell Ur kids Mrs.Doubtfire has died!? RIP Robin Williams.. Thank u for the laughter n the movies!

— Farah Khan (@TheFarahKhan) August 12, 2014
Shocked and so so upset to hear about Robin Williams death …. :(RIP

— ROSIE NORONHA (@AnushkaSharma) August 12, 2014
One who made us laugh left in sadness …. One of the greatest actor and comedian …Actors are so deceptive .. 🙁 .. RIP Robin Williams

— ROSIE NORONHA (@AnushkaSharma) August 12, 2014
Gutted to hear about @robinwilliams passing. My most impressionable years were spent transfixed, as I watched his movies.

— Rahul Bose (@RahulBose1) August 12, 2014