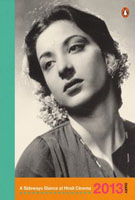 Those who are devoted Bollywood fans will probably be aware of the fact that 2013 is an important year for the film industry, since it will be celebrating 100 years since the first moving picture was made. Well for anyone who is keen on acquiring a piece of memorabilia which marks this historic occasion, then look no further. A unique 2013 diary titled A Sideways Glance at Hindi Cinema has recently been published by Penguin Books and has been devised by the eminent UK based documentary filmmaker and writer Nasreen Munni Kabir. She has spent decades in ensuring that the history of Hindi cinema has been well documented by interviewing and writing about numerous actors, filmmakers, singers and musicians. These include figures such as the pioneering filmmaker Guru Dutt, superstar Shah Rukh Khan and India's nightingale Lata Mangeshkar.
This carefully produced diary contains spellbinding images of film props, film posters, costume designs; real handwritten work taken from film scripts and music lyrics, as well as a number of stills taken from the film sets of some of Hindi cinema's most memorable classics. Examples include the camera that was used to film the second half of Mehboob Khan's magnum opus Mother India (1957) and Raj Kapoor's shoes which he wore for the iconic song 'Mera Joota Hai Japani' in Shree 420 (1955). Others include a page taken from the original script of Rajkumar Hirani's critically acclaimed comedy Munnabhai MBBS (2003), as well as the actual passport which belonged to Guru Dutt. Not forgetting that you can also write any important dates or events in your life in this diary too!
Nasreen Munni Kabir explains in the introduction of this book why she decided to embark on this distinctive project. "The idea behind the diary is to pay a personal tribute to Hindi films through a selection of some familiar images, rare photographs and never before seen texts, each opening a door to a world of shared film memories."
You can now get your hands on a copy of 2013 Diary: A Sideways Glance at Hindi Cinema from all good Indian retailers at just RS. 599. We have browsed through this entire diary and can assure you that it is a product that is definitely worth purchasing!
Make 2013 a year where you celebrate the phenomenal achievements of Indian Cinema!