February is probably the favorite month of the year for most of us who believe in celebrating the love we have in our lives. In an interview Farah Khan said, "Karan and I both loved the take on love as that emotion is something we know better than anyone else." This year to celebrate this month, Dharma has come up with a very unique idea to celebrate love and romance.
It will be very interesting to see what fascinating things Dharma movies have in store for the fans. With a huge list of glorious romantic movies like Kuch Kuch Hota Hai, Kal Ho Na Ho, Kabhi Khushi Kabhi Gham etc; Dharma Movies will dedicate every week of February to one love theme. Wonder what these different themes will be and how they will be be portrayed every week? We will find out!
They are not only going to give you symptoms to let you see if you are in love, they are also going to share some of their favorite romantic and unforgettable dialogues from their films like: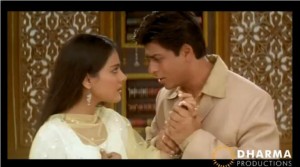 "Dosti ke alava bhi kuch rishte hote hai… Kuch rishte jo hum samajhte nahin, kuch rishte jo hum samajhna nahin chahte,
Kuch rishte jinka koi naam nahin hota, sirf ehsaas hota hai… Kuch rishte jinki koi diwaar nahin hoti, sarad nahin hoti…
Aise rishte jo pyaar ke rishte hote hai, mohabbat ke rishte…"
We all sighhhhh…..
The highlight of February will be the second week when My Name is Khan will complete 2 years post release on February 12, 2010. Along with that Dharma's new movie, Ek Main Aur Ekk Tu is all set to be released on February 10, 2012. Surely, this month cannot get any better for Dharma Productions. We are all waiting with eager anticipation to enjoy the moments of love that Dharma has in store for us.