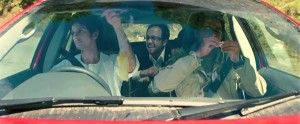 Vinod Chopra Films marked its completion of 30 years in the Indian cinema with the Retrospective. However, the news that is making rounds in the online circle is their festivities of the Retrospective have moved a level ahead. Keeping in mind the power of the digital world, Vidhu Vinod Chopra has taken the decision of showcasing his movies on the online platforms.
The first movie to be showcased at this unique festival of the Online Retrospective was 3 Idiots. 3 idiots had broken all records at the box office during its release in 2009. It is the highest grossing Bollywood film in India. It also became one the most successful film in East Asia and China. The initiative of making this film available online will curb piracy and enhance the reach.  3 Idiots has already crossed the bridge of Indian cinema and the Online Retrospective will take the movie on the global platform all over again.
The movie has been very well received and the number of views is shooting up with each passing day. Currently, the movie has crossed over a lakh views and the movie is going to be online for a few more days.
There isn't any better way to celebrate cinema than making entertainment available at one click. So make the most of it and watch the 3 Idiots on the Online Retrospective.
http://www.youtube.com/movie?v=yto4_QFoLdA