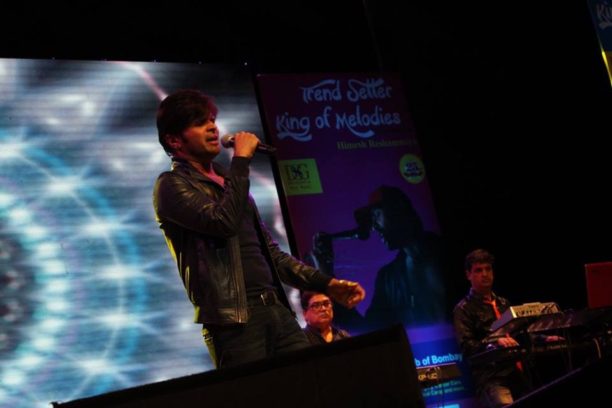 Today is the birthday of the multi talented musician, singer, actor and producer Himesh Reshammiya. In this special birthday article we take a look at Himesh's year 2016 so far, including his achievements and also his upcoming projects!
The year began on a high note as Himesh was awarded for his excellent musical score in the Rajshri family drama 'Prem Ratan Dhan Payo'. Himesh won the 'Best Music Director' award for Prem Ratan Dhan Payo at the Big Star Entertainment Awards. After the success of PRDP, came the super successful album 'Sanam Teri Kasam'. Directed by Radhika-Vinay, even though this film was not a big budgeted love story with an A-list star cast, fans were quick to spread the word about Himesh's modern romantic soundtrack and it most definitely played a part in drawing the audience to see the film, which in turn, became a surprise hit of this year.
After 'Sanam Teri Kasam', Himesh returned in actor mode with his latest hit film 'Teraa Surroor'. Directed by Shawn Arranha and shot in Dublin, 'Teraa Surroor' proved to be another huge success for Himesh the actor. The film saw Himesh play the role of a gangster named Raghu who is saving his lady love Tara (played by actress Farah Karimaee). The film and music have been highly appreciated with songs like 'Bekhudi', 'Main Woh Chaand' and 'Teri Yaad' topping the charts.
Himesh has continued to perform live this year across India, and he will also be performing in Durban South Africa in August. He also has three more upcoming projects in the pipeline. As we recently mentioned in one of our last articles, the CEO of HR Musik Andy Singh, said that the first of these three projects will role out this November. The other projects include Vishal Mishra's 'Heeriye' and HR Musik's 'The Xpose' sequel.
We wish the multi-talented artist Himesh Reshammiya a very Happy Birthday! Stay tuned with BollySpice for all the details on Himesh's forthcoming projects.
In association with www.himesh-reshammiya.com