Queen of Bollywood, Queen of Hearts, Dil Ki Rani are just some of the words synonymous with Rani Mukerji. She debuted back in 1996 with the film Raja Ki Aayegi Baarat, which tanked at the box office. People started writing her off even before she emerged. But then came the turning points of her career, in the form of Ghulam and Kuch Kuch Hota Hai in 1998, and she proved that she's here to stay. While Ghulam gave her the title of 'Khandala Girl', while Kuch Kuch Hota Hai made people take notice of this amazing actor who had the ability and talent to stand her own ground in front of superstars like Shah Rukh Khan and Kajol. She went onto win lots of accolades for both her films and there was no turning back. With her impeccable talent and infectious spontaneity, she ruled the industry and people's hearts for several years. Her performance in the critically-acclaimed Black not only won her infinite awards and admiration, but it's also touted as one of the finest performances by an actress in the history of Bollywood.
As the Queen completes 36 wonderful years of her life this week, we have a look at our favourite few things related to her!
FAVOURITE SCENES
1. Michelle's Interview – Black
http://www.youtube.com/watch?v=MTNHjAWziDA
You cannot possibly point out even a single flaw in Rani's portrayal of Michelle McNally. But, this scene is a favourite purely because of it's utter simplicity & beauty. Even though Michelle is deaf, dumb & blind, she leaves the university interviewers speechless by her knowledge and perspective and us, by her brilliant performance.
2. Saamiya's first case in the court – Veer Zaara
http://www.youtube.com/watch?v=E1mYgxxYWMg
Even though Rani's portrayal of a Pakistani lawyer Saamiya Siddiqui was brilliant throughout in this romantic saga, this one particular scene stands out for its powerful dialogues combined with Rani's rock-solid and believable performance.
3. Rhea confronts Karan regarding her marriage – Hum Tum
http://www.youtube.com/watch?v=_Z8-tpEJaLg&
Rani's portrayal of Rhea Prakash in the popular modern day classic Hum Tum won her many accolades and awards. This scene makes it to the favourite list for the way it has been performed and executed. Rhea's argument about Life V/s Marriage is not only applaud-worthy but relatable too.
4. Meera goes Live in 90 seconds – No One Killed Jessica
http://www.youtube.com/watch?v=_GO_Es605uI
As the fiesty and the fire-cracking journalist, Meera Gaity has been one of Rani's boldest roles yet & she lived it to the 'T'. All her moments in the movie are incredibly impactful but this one makes it to the favourite list for being unique & 'hatke'.  Rani's spontaniety speaks volumes, as can be seen here.
5. Bunty and Babli sell Taj Mahal – Bunty Aur Babli
http://www.youtube.com/watch?v=I1_98mgw4Lw&index=2
The movie is full of fun antics, but one moment that really had everyone in splits was when Bunty and Babli sell off the Taj Mahal to a foreigner. The scene was funny and endearing at the same time gave everyone a good laugh. Babli is definitely one of Rani's most memorable characters.
6. Naughty Boy – Kabhi Alvida Naa Kehna
http://www.youtube.com/watch?v=nQ7LB3ynSdg
This moment truly deserves a mention for it's hillarious execution, Rani's amazing enactment coupled with Big B's priceless expressions in the background! Even though Rani's character of Maya met with alot of criticism, her performance, was much appreciated. And this little funny moment was a sigh of relief in an otherwise intense film.
7. Tina's ghost helps Rahul realize his true love – Kuch Kuch Hota Hai
http://www.youtube.com/watch?v=V4oqJgDkdc0&
Tina's ghost looks at Rahul compassionately when he is once again separated from his love, Anjali. The powerful emotion in that moment reflects what unconditional love would look like if it were portrayed through a "gaze". She places her hand over Rahul's eyes, and that is the pivotal point when he clearly sees what he wants and needs to do: To go and marry Anjali before he loses her again. This scene gets a mention purely for its sincere charm!
FAVOURITE SONGS
1. Aati Kya Khandala – Ghulam
You cannot not mention this song while talking about Rani Mukerji. Not only did it went onto become a cult craze but established Rani as the true blue 'Khandala Girl' too.
http://www.youtube.com/watch?v=BKLd8N8eHRI
2. Koi Mil Gaya – Kuch Kuch Hota Hai
Remember that tiny lady walking up the stage in a mini purple dress with a guitar in her hand looking absolutely breath-taking and ravishing? Of course, how can one forget 'sexy' Rani in this super fun song.
http://www.youtube.com/watch?v=wsPqETkpu0U
3. Piya Piya – Har Dil Jo Pyaar Karega
The song, celebrating the spirit of friendship and togetherness, went onto become a huge rage. Rani and Preity's camaraderie was appreciated by one & all. No wonder it still remains an absolute favourite!
http://www.youtube.com/watch?v=pdqoUBwNVeA
4. Yeh Hawaayein – Bas Itna Sa Khwab Hai
This track featuring Rani & Abhishek Bachchan is still remembered as one of the best romantic tracks & rightfully so. The couple's splendid chemistry along with Shaan's melodious voice cannot be forgotten, after all.
http://www.youtube.com/watch?v=dXvr0TgUY_c
5. Saathiya – Saathiya
The beautiful locales and the breath-taking cinematography of the song instantly attracts one & makes it a favourite. Above all, Rani & Vivek's refreshing chemistry with Sonu Nigam's delightful vocals adds to the beauty of it all.
http://www.youtube.com/watch?v=6vMEtXqLh1A
6. Hum Tum – Hum Tum
Although all tracks of the movie are significant in some way or the other, this song makes it to the list for depicting love & passion in the loveliest possible way. Not only visually, but the song is beautiful to listen to.
http://www.youtube.com/watch?v=6le8ivPa33g
We also have to include Gore Yeh Chore from Hum Tum
Even though she's gorgeous and a wonderful dancer, Rani doesn't let worrying about looking good all the time keep her from showing off her attitude and being totally goofy. I mean, what other actress can pull off sticking their tongue out and choking Saif Ali Khan like this?
http://www.youtube.com/watch?v=IAivMMcGmAM
7. Dheere Jalna – Paheli
It is a favorite for many reasons, but more for the music that reaches into your soul. Whether it's the innocence that this song exhibits or the beautiful vocals of Shreya and Sonu, it definitely strikes a chord.
http://youtu.be/ITayDZvcE5o
8. Tera Chehra – Tera Chehra Album
This song from Adnan Sami's music album was Rani's first ever music video. Even though it is not a part of any movie, it is still remembered as one of her best songs for the way it was conceptualized. Not to mention, she looked like a million bucks 😉
http://www.youtube.com/watch?v=R0PpOfudzlA
9. Hadippa – Dil Bole Hadippa
This super-energetic number left everyone mesmerised with Rani's impeccable dancing skills and her svelte & sultry look. Matching steps notch by notch with Shahid Kapoor, she proved once again that she's got the moves.
http://www.youtube.com/watch?v=2YWqCnKPstg
10. Aga Bai – Aiyyaa
Even though the movie made no impact whatsoever on anybody, Rani's belly dance in the song definitely caught people's attention! With her curves and scintillating moves, she totally shone through this seductive and hypnotizing number.
http://www.youtube.com/watch?v=CHwlXtF3zXs
FAVOURITE DIALOGUES/LINES
1. Because Justice has been denied. You can live with it, I will not. – Meera, No One Killed Jessica
http://www.youtube.com/watch?v=3T88Npkmp2E&
2. Yeh insaan ke roop mein khuda hai ya khud ke roop mein insaan. – Saamiya, Veer Zaara
http://www.youtube.com/watch?v=9DQB452D0hQ&
3. Kabhi toh pehli mulakaat hi kaafi hai, aur kabhi bahut si mulakaatein lag jaati hain. – Rhea, Hum Tum
http://www.youtube.com/watch?v=OFoHSo06xcI&
4. Dosti, jo har rishte se upar hai, kyunki dosti hi hai, jo har rishte ki shuruaat hai. – Pooja, Mujhse Dosti Karoge!
http://www.youtube.com/watch?v=tVStjcWkJJw&index=23
5. London mein rehne se, wahaan padhne likhne se, main apne sanskaar nahi bhooli, aur yeh tum mat bhoolna. – Tina, Kuch Kuch Hota Hai
http://www.youtube.com/watch?v=LCVnENmWMEM
6. A personal favourite of ours at Bollyspice is the 'Talaash' interview that Stacey did with Rani. In her words, "I got the incredible chance to talk with her about Talaash. She was, even after a day of answering questions, one of the nicest celebrities I have ever interviewed."
FAVOURITE LOOKS
1. Chalte Chalte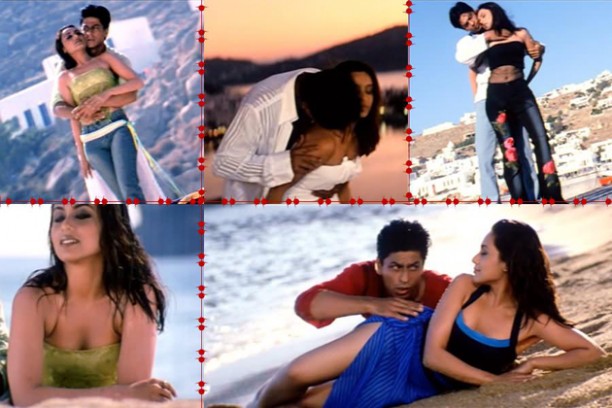 As a fashion designer, Priya was a perfect blend of class and elegance. Not only did Rani portray the character effortlessly, she also looked stunning all through.
2. Kuch Kuch Hota Hai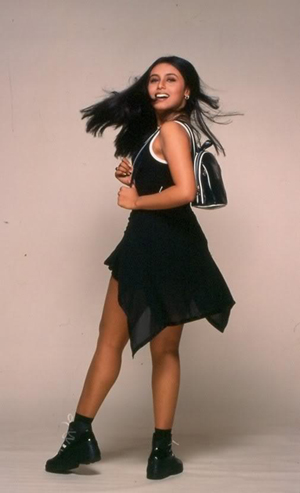 As Tina, she played the London-return, chic and urban college girl who was sexy on the outer side yet beautiful inside. And Rani portrayed both the variations with panache!
3. Kabhi Alvida Naa Kehna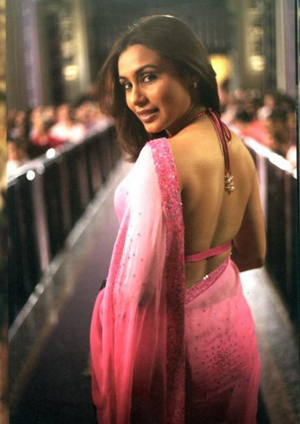 If there is one actress who looks sexy, beautiful and impeccable all at the same time wearing a saaree, it is Rani. KANK had her flaunting some of the gorgeous one's and needless to say, she looked jaw droppingly stunning in each and every one of them.
4. Hum Tum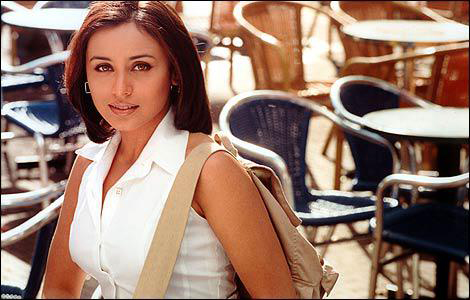 Hum Tum saw her sporting a short hair crop for half of the movie and a long one for the rest half. Both kind of styles complemented her character's growth and maturity at the respective times and undoubtedly, she looked fabulous in both the avatars!
5. Bunty Aur Babli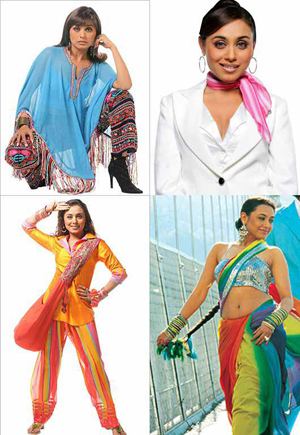 Babli is remembered not only for Rani's incredible portrayal but also for her over-the-top personality and loud-colorful clothes. Rani had set a new fashion statement with her character and the style became a huge rage amongst girls.
Phew! That's almost like a trip down the memory lane, isn't it? And yes, we didn't include the usual favourite films or performances because that's done to death and we wanted to be a bit different. Finally, as we all await the release of Mardaani, we wish Rani a very Happy Birthday and pray that she does more films because we absolutely love watching her on-screen.
with contributions from Stacey Yount, Caitlin E. O'Conner & Aashi Gahlot