After a triumphant show at The Venetian Macao in 2009, Wizcraft International Entertainment returned to the Cotai Strip to host the much awaited 14th Videocon d2h IIFA Weekend & the Tata Motors IIFA Awards powered by Lava Mobiles. The second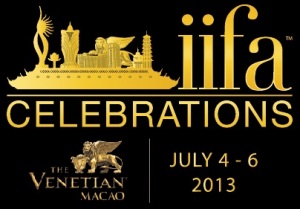 night of the Videocon d2h IIFA Weekend saw Grey Goose Presents IIFA Rocks, a night of music, dance and fashion themed to 'The Magic of the Movies'.
The star-studded evening was a brilliant blend of musical performances by Pritam, Benny Dayal and Raghav Sachar among others followed by the Grey Goose fashion show. The grand finale was the announcement of the Technical Award winners of the Videocon IIFA Awards 2013.
The Grey Goose Presents IIFA Rocks extravaganza showcased Jacqueline Fernandez, Sonu Sood, Sophie Chaudhary, Arjun Kapoor, Dia Mirza, Hussain Kuwajerwala and Gauhar Khan play out different aspects that go into the making of a film, thrilling the audience at The Venetian Theatre.
Known for their sublime creations and a longstanding association with Bollywood, Shantanu & Nikhil, with GREY GOOSE vodka, present their fine craftsmanship, dramatic color and bold designs in an exquisite collection, titled –'The Celluloid Noir'. Inspired by the iconic characters from the past decades, this collection is quintessentially a cinematic journey through the lens of fashion. Neil Nitin Mukesh will walk for the designer-duo.
Designers, Shantanu & Nikhil add, "We are extremely excited to collaborate with Grey Goose at the forthcoming IIFA ROCKS in Macau. Grey Goose is a classy, great tasting and sophisticated product in sync with our deign aesthetics. The Collection will be high on sharp construction details, understated edginess and signature neo-classic silhouettes."
Commenting on the extravagant occasion of the Grey Goose IIFA Rocks night, Sabbas Joseph, Director, Wizcraft International Entertainment, said "IIFA aims to celebrate the very best of Indian Cinema, including the integral aspects of fashion and music that have always played a very important role in our films. At IIFA we aspire to ensure that recognition is awarded to those who deserve it, especially the technical talent that strives behind the scenes to make Indian Cinema the success that it is."
Stay Tuned to Bollyspice for more details on IIFA Weekend and fashion roundup of all the major red carpet events!