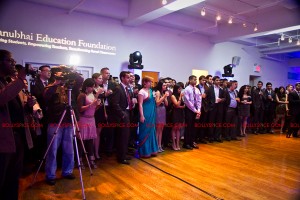 Nanubhai Education Foundation will be hosting their upcoming gala on April 27th at the exquisite Angel Orensanz Foundation of Contemporary Art in New York City.
Spokesman for Nanubhai Education Foundation, 90210 Actor Manish Dayal, along with Heroes Actor Sendhil Ramamurthy, Actor Samrat Chakrabarti, Actor Ami Sheth, Celebrity Photographer and star of Bravo TV's Double Exposure Indrani, Former Canadian Cricket Team Captain Ashish Bagai, and Philanthropist Karen Koeningsberg will come forth to honor and raise funds for the progress of education in rural India. The annual gala will be a glamorous evening of cocktails, Hors D'oeuvres, entertainment, music, dancing, a live auction and much more. Spokesman for the foundation, Manish Dayal says "Nanubhai's mission and work overall inspires me and I am honored to represent this innovative organization which works to improve education in developing areas of India without incurring overhead that prohibits real change. Nanubhai is a solid example of sustainable and effective nonprofit structure. I look forward to growing with this organization and celebrating our success at our 4th annual gala in New York."
The gala event is the primary source to raise funds for the Nanubhai Education Foundation's fellowship program that partners experienced American educators with rural Indian high schools to mentor and inspire local teachers to become excellent educators. "The Nanubhai Annual Gala is an incredible venue for our supporters to meet our India Fellows and celebrate and champion the impact they are making together in the lives of students in rural India" says Mr. Raj Shah, Founder and President of the Nanubhai Education Foundation.
Tickets are available online at http://www.nanubhai.org/annual-gala and a portion of the ticket price will be tax-deductible. Additional information and celebrities announcements can also be found on our website. Nanubhai welcomes sponsorship opportunities to ensure the success of the annual gala. If you are interested in becoming a sponsor or would like to contribute to the scholarship fund, please contact Nita at nita@nanubhai.org.
About Nanubhai Education Foundation
Nanubhai Education Foundation is a 501 (c) 3 non-profit dedicated to providing equal access to India's rapidly growing economic opportunities to the students of India's rural public high schools through education. Since 2004, Nanubhai has been transforming access to quality education. They have integrated an innovative program of English and information technology education into the underfunded public schools in the Indian state of Gujarat. The organization was founded on the premise that all Indian students deserve equal access to quality education.