An evening of food and laughter, the who's who of the F&B Industry made it to the launch of Celebrity Chef Rakhee Vaswani's first ever cookbook 'Picky Eaters' at China House, Grand Hyatt today. Unveiled by the gorgeous Malaika Arora Khan, yummy mummy of a picky eater herself, the book launch was a huge success amidst much celebration, fanfare and free flowing food and spirits!
​​Another highlight of the event was an interactive, fun, panel discussion with Malaika, Chef Rakhee, food expert Kunal Vijayakar, masterchef Ranveer Brar and the brilliant Radhika Mukherjee, owner of The Big Red Bus and singer Shaan's wife. Not only did they speak about the book but also shared their personal experiences with Picky Eaters and their most cherished food memories. This was followed by a entertaining rapid fire session that could the crowd in splits!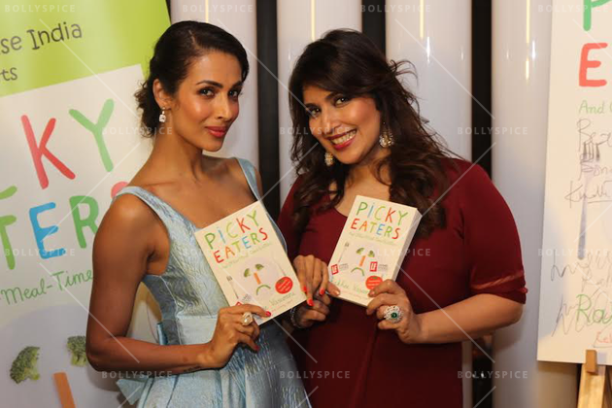 Also present at the launch were industry stalwarts such as Saransh Goila, Vicky Ratnani, Kshama Prabhu, Tanai Shirali, Rushina Munshaw Ghildiyal and popular celebrities like Mansi Joshi Roy, Gauri Tejwani, Shaheen Abbas and many more!
The gorgeous mum, celebrity chef, TV show host and now author Chef Rakhee Vaswani said, "All the recipes mentioned in the book are ones I've made at home for my kids. I've recognized their palate and turned them into children who eat everything. This is what the book Picky Eaters aims at doing in the long run. I personally feel that it is absolutely possible to make healthy food at home which is still restaurant-like in taste and appearance. I am so humbled today and I'd like to thank everyone for their unconditional love and support – especially my husband Mahesh and kids Aneeshaa and Akhil."
Excited for Chef Rakhee, the stunning Malaika Arora Khan said, "I owe all my cooking, or the experience of it, to Rakhee. She is the most humble, patient and wonderful teacher I have come across (obviously the only one!). She makes teaching and learning a very pleasurable experience. I have had the great fortune of attending many classes at Palate Culinary Studio with Rakhee. Whenever I want a recipe, I just pick up the phone and ask Rakhee for help. This is the best part about her—cooking is such passions that give her a brief, or just few keywords, and a recipe flows out of her."
'Picky Eaters' exist in every household. This book aims to be your one stop guide for all the Pick Eaters in the family making their food delicious and ready to devour! It is not only for kids but also adults who love their food alike!
'Picky Eaters' is now available at all leading bookstores and online portals.