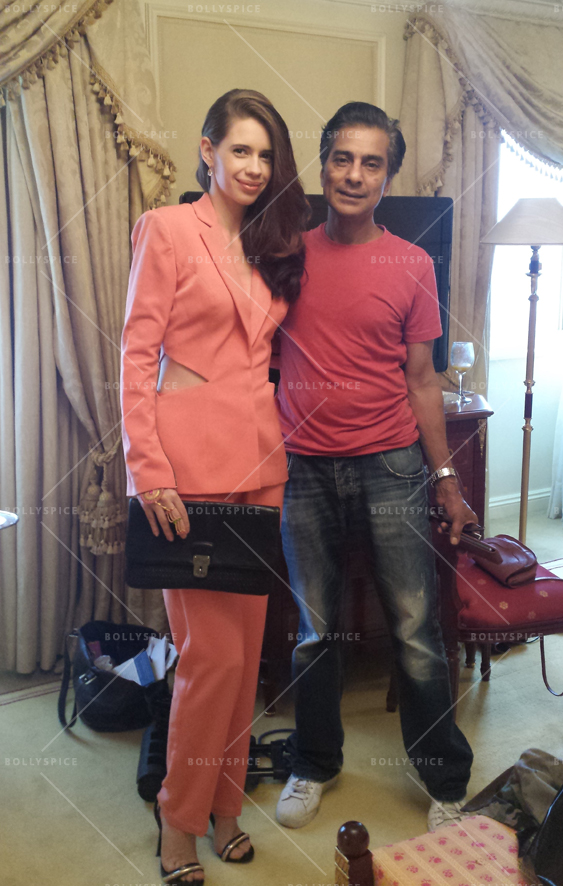 Celebrity hairstylist Asgar Saboo worked his magic yet again on the red carpet, as he effortlessly styled the hair of popular actress Kalki Koechlin for the red carpet premiere of her new film Margarita, With A Straw, which had its European screening at the London Film Festival.
The renowned hair maestro, who is Creative Style Director at the world-famous Daniel Galvin salon in London, created a stunning side-swept wavy hairstyle for Kalki, upping the style quotient with just the right amount of sophistication and glamour at the 58th BFI London Film Festival red carpet premiere. Kalki dazzled in a peach-hued, fitted trouser suit, complete with cut-out motif on the sides.
Asgar has previously styled the hair of such A-List celebrities such as Aishwarya Rai Bachchan, Deepika Padukone, Kareena Kapoor and legendary actress Rekha, as well as supermodel Cindy Crawford. He is also credited with creating the hairstyle sported by Bollywood hunk Hrithik Roshan's waxwork figure at Madame Tussauds.
Below, you can create Asgar's elegant side-swept wavy hairstyle, ensuring you will be red-carpet ready in no time!
5 simple steps to create Kalki Koechlin's Side-Swept Wave
1. The key to getting this look right is to prepare the hair whilst it's still wet. It is essential to use good quality volumising products and hair oil. A simple styling mousse or oil treatment should do the trick.
2. Using a large round brush blow dry your hair. This will give it the necessary movement yet will ensure that the hair frame is in place.
3. Depending on what size curls you want to achieve, use small or medium curling tongs. Start from the ear downwards and from the front of the head on both sides. Depending on your hair length, work with four sections by curling one section of the hair clockwise and one anti-clockwise. Pin each curled section as you go along.
4. Remove the pins and delicately pull all the sections together. Do this very gently just by using your fingers.
5. To achieve the side sweep use a large paddle brush and firmly brush from the crown up and over left to right, avoiding the waves from the ear down by bringing them around the back of the neck and over gently by hand. For the necessary hold, use a medium strength hairspray. For the most secure style, allow the hair to settle for at least half an hour.