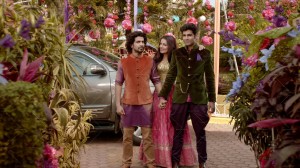 Homosexuality, gay rights and a traditional Indian family.
Can the above really be placed within the same sentence?
They certainly can and they certainly should be.
This fact has been portrayed through a recently released music video, The Welcome.
The courageous and revolutionary music video stars Bollywood celebrity Celina Jaitley and portrays homosexuality openly within a traditional Indian family setting.
As a young man proudly introduces his male partner to an eagerly assembled desi family, The Welcome inspires hope for family acceptance to both gay persons and loved ones.
Not only does the music video normalise homosexuality, but the openly honest portrayal within an Indian family setting encourages family acceptance of homosexuality.
Indeed, why should homosexuals have to hide and feel they cannot be part of immediate and extended family, when actually, sexuality is not a choice and love is love?
Unfortunately, honesty and acceptance can be complicated and also life threatening for some homosexual persons because of the stigma and numerous myths surrounding homosexuality.
Homosexuality within South Asian society is still perceived by many as inferior to heterosexuality, as laden with lust and even as an abnormal disease against religion.
Another obstacle in the way of eradicating homophobia is the popular claim of right wing Indian organisations of homosexuality being a threat and not belonging to South Asian tradition.
This music video breaks these ridiculous statements by emphasising the fact that homosexuals do fall in love, have healthy relationships and can be accepted into the traditional Indian family sphere.
The Bollywood theme and the commercial names associated with the video are encouraging regarding the fight for gay rights.
Launched by Celina Jaitley, Imran Khan, UN human rights officer Charles Radcliffe and gay rights activist Ashok Row Kavi, the music video boasts vocals by Jaitley and Bombay Vikings band member, Bollywood playback singer Neeraj Sridhar.
This clearly encourages the possibility of homosexuality having a space in commercial Bollywood, emphasising Bollywood as a tool for promoting gay rights- something that is important following the somewhat shelved plans for Romil and Juggal, a prospective gay Bollywood love story.
The traditional Indian family portrayed in The Welcome is symbolic to what needs to happen next for an equal society: the acceptance of individuals for whom they truly are, rather than the denial and intimidation depriving many from the human right to love and live with honesty.
Watch The Welcome here to see how beautiful love and family acceptance is: