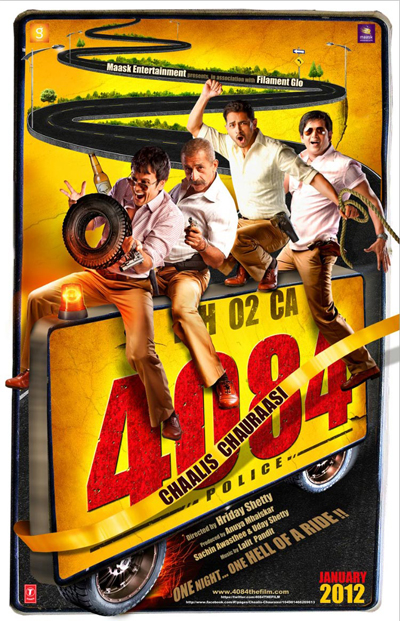 Starring Naseerduddin Shah, Atul Kulkarni, Kay Kay Menon, Ravi Kissan
Directed by Hriday Shetty
Four fine actors, one wild unpredictable night of adventure. As a premise for a two-hour adventure-caper this sounds exactly like the recipe Sudhir Mishra ordered from his scriptwriters when he made Iss Raat Ki Subah Nahin 15 years ago.
Times have changed. So has morality. Nowadays guns are no longer what the villains hold in our films. They are often the tools to trigger off a torrent of titters in times of violence. In this day and age of dithering morality Chaalis Chauraasi (4084) has some finger-licking fun with the formula of farce.
4084 is a feast of the feisty. Indeed Hriday Shetty who earlier directed a tender but undercooked tale of midlife romance Pyar Mein Twist, is here on far surer grounds as he takes his quartet of quirky characters through a maze of  mindboggling adventures. All highly nefarious, of course.
So who said, crime doesn't pay?
The thing about the morality in this film's rapidly-mutating screenplay is that it's a negotiable commodity. There are episodes in this extremely rugged slice-of-strife cinema where the four protagonists' conduct scrapes the bottom of the morality barrel. This isn't a film for the weak-hearted. This is not a film about heroes. And the four principal actors play the unheroic heroes with compelling gusto.
Indeed the camaraderie among the quartet of over-aged fun-seekers is so convincing you wonder if the director Hriday Shetty came up with this brawny concoction of crime and comedy after getting Naseeruddin Shah, Atul Kulkarni, Kay Kay Menon and Ravi Kissan on board.
The rest just follows.
There's no blood and gore,no abusive invocation of mothers and sisters and their private spaces. And yet the rollercoaster ride is never free of excitement.In spite of some repetitive scenes Bunty Negi's editing is crisp and sassy. The camerawork by Najeeb Khan makes Mumbai by night look famished and naked. Shetty has chosen actual locations of Mumbai's underbelly as resting-places for his restless plot. Into these redolent locations of cramped ethics, the narration pours a sort of sly and slippery street wisdom that gives the 'heroes' room to improvise without losing the centre of this precarious-perched tale of crime and nil punishment.
The shootouts specially in a lodge where the four protagonists masquerading as  cops comes to a messy nemesis, are shot with a feeling of inebriated recklessness. Anything can happen. Nothing is as it seems. And yet director Shetty, manoeuvring through incidents that border on the absurd and yet preserve a  core of credibility, takes the narrative screaming kicking though blessedly not abusing, through a night of adventures that have to be seen to be believed.
4084 is a crisply edited one-wild-night-on-the-wrong-end-of-town caper that manages an improbable merger of the sinister and the satirical. The four principal performers are dead-on, full of beans percolating with a pungency that makes them credible all through their incredible journey.
And you've to see the four super-actors dance to 'Hawa Hawaa' to know  how much fun they've extracted from the film. In this item song it's Atul Kulkarni who surprises with his spinning feet. And his three colleagues don't seem to mind. Oneupmanship is not the point in this game that big boys play in the dark.
Solidarity is.