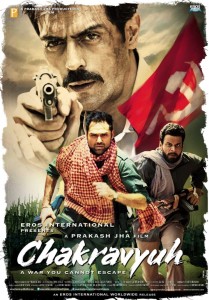 Prakash Jha is back with his latest endeavour Chakravyuh, which stars regulars Manoj Bajpai and Arjun Rampal, along with Abhay Deol joining the cast. With its worldwide premiere held at the 56th London Film Festival, BollySpice was able to catch a special press screening. Read on to see what we thought…
Following in his tradition of filmmaker come social messenger, this time round Prakash Jha covers the contemporary issue of the Naxalite movement taking place across India. With a trusted reputation for crafting hard hitting issues within the constraints of the Bollywood format, the question is whether he is able again to translate this issue onto a commercial platform. Does Jha succeed in doing so? In one word: yes!
Naxalism is a Maoist-inspired communist movement, which has been taking place across villages in India's hinterlands. Organised armed groups aim to protect villager's lands and rights, from the state and from commercial corporations, but often at the cost of economic and social development. It is viewed as India's greatest security threat and the inhabitants of the villages largely ignored by the state since India's independence. With some loose references to the movement in previous films, Chakravyuh is the first feature length on the topic, which in that sense makes it one of the most important films to come out of India in recent times.
Clearly the years of research which has gone into Chakravyuh, is reflected strongly in the story, screenplay and dialogues. This is weaved through a simple story of two friends (Arjun Rampal and Abhay Deol) and how they both end up on opposite sides of the conflict, one working for, the other against. Without giving too much of the story away, you may recall Ken Loach's award winning The Wind That Shakes The Barley, based on the Irish civil war, with two brothers on opposing sides. Chakravyuh holds a similar narrative structure, but is delivered with the emotion and drama we expect from an Indian production. From more recent times, you draw some minor parallels with James Cameron's Avatar, where an insider goes native. But do not let those analogies throw you off, Chakravyuh is an absolutely original story, which manages to weave a strong socio-political issue throughout it.
Shot entirely on location, the film manages to transport you into the heartland of India, where current battles are taking place between the Naxalites and Indian national forces. Chakravyuh offers a balanced viewpoint, whilst not picking one side of the argument over the other. Whilst also covering the involvement of corrupt politicians and foreign corporate company bosses, the characterisations avoid being overly cliche or caricature.
This leads us to the main performances. Prakash Jha clearly saw something in Arjun Rampal, which he drew out of him in Raajneeti and in Chakravyuh, once again he extracts a powerful and controlled performance from Rampal as the principled police officer and concerned friend. This is yet another solid performance for Rampal to add to this growing list (Rock on, Raajneeti, Ra.One). Abhay Deol, a fine actor both through his choice of films and performances, is great again here, but suffers slightly in his delivery. Presented as a 'wild horse', who is meant to be unstable and unruly, instead his performance would have been more justified if he had been portrayed as young, lost and innocent, as that is how he came across. Manoj Bajpai hits all the right notes as usual. If you were expecting some hangover from Anurag Kashyap's Gangs of Wasseypur, what you actually get is yet another unique and individual performance from the actor.
Although we cannot mention them all, Chakravyuh is built around a host of great supporting performances, but one we can not fail to mention is that of Anjali Patil. She is absolutely amazing as a Naxalite leader (Jui), another strong female performance of 2012, which is sure to get it's due come award season. Jha never ignores his female performers and manages to give them equal importance and weight in all his movies. Equally Esha Gupta, who plays the role of Arjun Rampal's wife, is presented as a headstrong police intelligence officer, rather than just eye candy or a devoted housewife.
The only downside and one which many Bollywood films suffer from, was the editing department. As far as an Indian audience is concerned, the film is the right tone and format. Given that we watched it at the London Film Festival, one key component it needed was an international edit: less backstory, reduce the songs, bring the running time to under two hours and you have a great international film also, with a topical issue and an engaging narrative. That could then have resulted in the film being pitched alongside the many other world cinema releases, playing at venues such as the Curzon Soho, as truly a film like Chakravyuh needs to be seen by as wider audience as possible.  However, the under-editing issue is a problem for Bollywood films at large and does not detract from Chakravyuh being a well made, well acted and well presented film.
Chakravyuh is an absolute must for all Prakash Jha fans, unmissable for Arjun Rampal supporters and definitely one to watch for all Manoj Bajpai diehards. Given the topic it is an eye opener for the audience, who will definitely take a lesson or two away from the film. Chakravyuh may not get the ticket footfall it deserves, in the world of glossy song and dance affairs, but is a fine example of filmmaking with conviction and really is story you must experience.