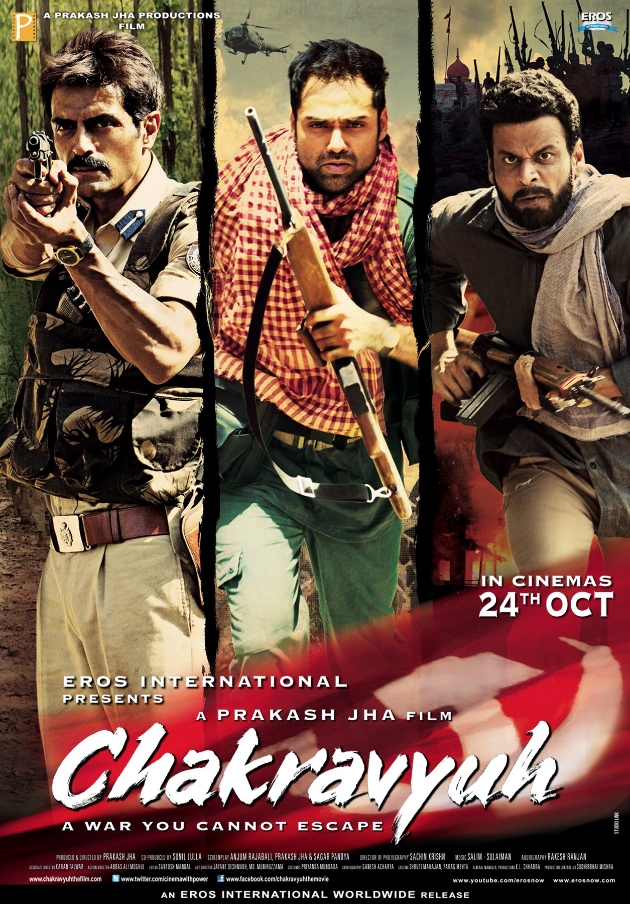 Chakravyuh is Prakash Jha's latest commentary on the political/social conditions of India. Jha addresses the issue of Naxalites this time. It stars Abhay  Doel, Arjun Rampal and Manoj Bajpai in pivotal roles.
Arguably music does not play a huge part in Jha's movies, however 'Mora Piya' from Raajneeti gained a strong fan following while its 'Bheegi Si' and Aarakshan's 'Acchi Lagti Ho' were also well liked by music enthusiasts.
Chakravyuh has Salim-Sulaiman (Fashion, Band Baaja Baaraat) composing three tracks, the reminder being composed by Vijay Sharma, Sandesh Sandaliya (Chameli), Shantanu Moitra (3 Idiots) and Aadesh Shrivastav ('Mora Piya' – Raajneeti).  Lyrics have been penned by Irshad Kamil, Turaz, Ashish Sahu and Pancchi Jolanvi. It features the vocal talents of Salim Merchant ('Ainvayi' – Band Baaja Baaraat), Aadesh Shrivastav ('Mora Piya' – Raajneeti), Kailash Kher ('Yun Hi Chala Chal' – Swades), Sukwinder Singh (Dabangg – Title Track), Shaan (Don – The Chase Begins – Title Track), Benny Dayal (Ek Main Aur Ekk Tu – Title Track), Rashid Ali Khan ('Aaoge Jab Tum' – Jab We Met) and Sunidhi Chauhan ('Halkat Jawani' – Heroine) amongst others.
Vijay Sharma's Mehangai gets the ball rolling. It is a folksong of sorts penned by Turaz alleging that corporations and governments are fulfilling their goals of profit maximisation at the expense of the hard working common man [and woman].  Aside from Kailash Kher's flawless rendition and the publicity the lyrics got from its legal issues, the track has little to no appeal. Sure, it is in line with the Chakravyuh's underlying theme but it carries very little entertainment value on its own. Siddharth Suhas attempts to save the number by remixing it, but the track fails miserably.
Cheen Ke Lenge is a call to arms or mission statement of the Naxalites. Sukwinder Singh is in his element in this number and embodies the running themes of the song. Once again, it is a well-written (Ashish Sahu) and equally well-composed number that emphasises Prakash Jha's political commentary on the Naxalites but is devoid of any mass appeal.
Kunda Khol is an item number sung by the Sunidhi Chauhan, picturised on Sameera Reddy.  It has a nice moderate pace, desi appeal and is devoid of a political agenda. It definitely has more mass appeal than the previous numbers and also proves to be relatively entertaining. Sandesh Sandaliya composes a decent track, however, in light of the likes of 'Halkat Jawani' and 'Munni Badnam' it falls short.
Aiyo Piyaji is next and seconds into the number confirms that it is the album's best song. Shantanu Moitra cleverly intertwines the classical with the contemporary. Lyrics by Irshad Kamil are sweet and simple with a nice folk-y tinge to it and Rashid Ali Khan renders it with utmost perfection.  If you liked 'Aaoge Jab Tum' from Jab We Met, you will love this number.
Then comes Tambai Sa Rang which, to put it crudely, is a musical expression of a bunch of guys ogling a girl, hopefully one who is consenting to the ogling. The number could have easily been out of Salim-Sulaiman's wheelhouse but they have pulled it off fantastically. Musically, it is dark, almost primitive and while Kamil's lyrics are creepy and sleazy it keeps with the theme of the track. Salim and Shadab embody Kamil's lyrics and render a convincing albeit arguably unpleasant number.
Aadesh Shrivastav's Paro is a derivative of Tambai Sa Rang. It is easily more pleasant than Tambai and is rather comedic. Musically, it is fun and light, unlike its darkly comic predecessor. Shaan, Aadesh and Sunidhi do a decent job of rendering the number. It is reminiscent of 'Ek Chance' from Aarakshan, though Pancchi Jalonvi's lyrics are not as witty.
The album closes with an instrumental thematic piece, brilliantly composed by Salim-Sulaiman. It commences with a wonderful rendition by Benny Dayal and then proceeds to encompass the various emotions one can expect to witness in the film. It is soft and sombre one moment, sinister and haunting the next, brilliant entirely.
In summary, the best thing about Chakravyuh is that it is a testament to Salim-Sulaiman breaking the last of any stereotypes applied to them. They have come very far from composing peoples-choice numbers for the likes of Yash Raj Films and have created tailor-made tracks for Chakravyuh to optimally reflect the feel of the film. Regrettably, the tracks have little to no mass appeal and therefore will go unnoticed.  Similarly, Aadesh Shrivastav's 'Paro' is relatively unremarkable while Sandaliya's 'Kunda Khol' may scrape some hits due it being an item number.  'Mehangai' may attract listeners because of its run in with the law and the Censor Board but it is an uneventful track otherwise. Shantanu Moitra's 'Aiyo Piyaji' is the undisputed winner with its sober minimalist disposition and nice blend of classical and urban music. It is easily the album's only selling point.