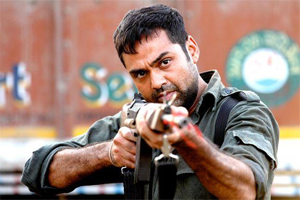 Bollywood actor Abhay Deol is known for starring in films which have unconventional story lines attached to it. For his upcoming film Chakravyuh, Abhay stated in an interview with a leading Indian newspaper that he found this to be the easiest film he has done so far in his career. "Physically, I was running a lot, jumping around, cycling, shooting guns, jumping out of trucks. So physically they were tiring scenes. But because I was enjoying all this, I did not feel anything. Honestly speaking, this is one of the easiest films that I have shot." This is Abhay's second major political film along with Shanghai (2012). Will he impress us all again with Chakravyuh? We will have to wait and see once the film has released.
In addition to discussing his role in the film, Abhay mentioned to the same newspaper about his experience of working with co-star in Arjun Rampal in this film. "He is a fabulous actor and he really is dedicated to his work. He'd understood the character so deeply, so it was nice to be, sort of, first his friend and then to see him portray the character and see how he'd do it, so then I would just feed off him."
Chakravyuh releases in cinemas worldwide on 24 October 2012. You can catch early screenings of the film if you are residing in London at the BFI London Film Festival on the 11, 13 and 15 October 2012.