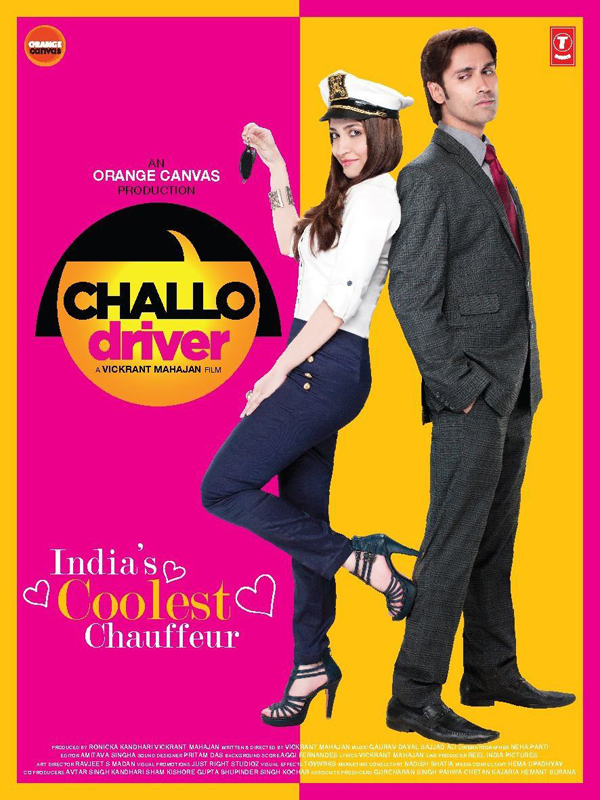 Challo Driver, directed by and starring Vickrant Mahajan is a comedy film that also features Kainaz Motivala, Prem Chopra, Manoj Pahwa, Tariq Vasudeva, Juhi Pande and Silky Khanna. Set in Delhi, Challo Driver is the story of Arjun Kapoor, a fiery young construction magnate and Tanya Malhotra, an arts graduate from Chandigarh — who unwittingly becomes his chauffeur. He has a penchant for firing drivers and she has a proclivity for quitting jobs until fate — and an unassuming bet — throws them into the deep end and they have to stick out together for a stipulated period of 6 months! Do sparks fly when they meet? We will find out on July 20th. Of course, it being a Bollywood film, there has to be songs and sitting in the music director's chair for three songs is the great Gaurav Dayal with the other two tracks by the fab Sajaad Ali Chandawani. The OST features five eclectic tracks with vocals by Mika, Hard Kaur, Shaan, Rakhtima, Shubhankar Dutta, Labh Janjua, and Aditi Veena.
First up we have the energetic Kudi Pataka Driver, which has a classic Indian beat that is taken up and mixed with a thumpin' hip-hop overlay. As you can expect adding in the vocal talents of Mika and Hard Kaur takes it up a notch. Mika is terrific and adds a wonderful flavor with his classic inflection and energy. Then of course there is the totally killin' it Hard Kaur doing what she does best. I actually didn't completely mind the English lyrics, which is a rarity to me. The stanza was maybe repeated a few times but it had enough of different flavors that made it a good track. A favorite for me? No, but you may love the beats so give it a spin.
Dehle Pe Gulla sung by Labh Janjua has a great Punjabi flavor that has this added mix of sounds that makes it a very cool groove. Gaurav is really good at taking the classic beats that get your shoulders a dancing but changes it up to add this modern feel with extra layers in vocals and instruments. You hear the classic Punjabi inflection in many of the lyrics but then there are these surprises with runs of notes, which I thought added a lot. Also loved the use of the vocal as an instrument. It is just full of great beats, great vocals and great energy.
Wakhre Wakhre Kaam is one of my favorites on the OST. A simple drum beat starts out the track that transforms into a pacey western beat with a many layered sound. The music is fabulous especially with the acoustic guitar line. But the highlight is the smooth vocal by Gaurav. I did not know he could sing like that. He must sing more. Aditi was wonderful as well. There were great harmonies and the interesting vocal lines really added to the excellence of the song. Also liked the rock guitar riff and actually thought it could have used more of that. I almost wish the music was a bit slower but that is nitpicking. This is definitely one you must get and play again and again. Great Jam!
Then we have Sajaad Ali Chandawani's happy, quirky and zippy Umangon ka Karwan sung by Shaan and Rakhtima. Shaan is, as ever, always good with his great, joyful, smooth vocals. Rakhtima was a lovely addition later in the track and I love the feel she gave to the vocals. The parts in the chorus where the voices became instruments was brill. This took me be back to classic happy Bolly songs, some of my favorites of all time. Umangon ka Karwan will have you smiling! This has an unexpected sections with the Spanish flavored riff was nice as a change up. This one I can't wait to see on screen. I imagine she is walking along singing about him and then him in another frame doing the same. I think it will play even better in the film. I will ignore the whistling, which is a pet peeve of mine, because I love the feel of the track so much!
Finally we have Ittefaq Hai Daastan Hai again by Sajaad Ali Chandawani. This track was a real surprise, especially with the almost operatic beginning that transforms into a lovely ballad. I love, love, love Shubhankar Dutta's voice. I love the melody. I love the instrumentation. I love the lovely feel and mood of the song. In short, this too is one of my favorites and one you must check out!
Gaurav Dayal always manages to lay down an album full of new sounds, cool grooves and he always surprises me and exceeds my expectations. 'Wakhre Wakhre Kaam' is still grooving in my head. Sajaad Ali Chandawani has a unique note and musical voice too, who put together two of my favorites on an album full of greats. What started off as an okay, this is nice with some new layers OST, it ended with some real gems that are fantastic songs in or out of the movie.