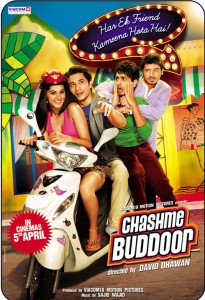 Chashme Baddoor is an upcoming remake of the 1981 classic comedy and will be releasing in cinemas on 5 April 2013. It is directed by David Dhawan and stars Ali Zafar, Siddharth Narayan, Divyendu Sharma, Tapsee Panu and Rishi Kapoor in the leading roles. The film is based on the lives of three young men named Sid (Zafar), Jai (Malhotra) and Omi (Sharma). Whereas Sid leads a normal life; Jai and Omi are busy chasing girls and trying to live life on the edge. However, Jai and Omi face a clash when they both fall for Seema (Panu) and try their best to woo her. The music has been composed by Sajid-Wajid. In the past, the dynamic duo has given us soundtracks like Dabangg 2 (2012) and Teri Meri Kahaani (2012). The lyrics are written by Jalees Sherwani, Neelesh Misra and Kausar Muni. So without furher ado, let's assess whether or not the music to Chashme Baddoor is worth listening to.
The first track is Ishq Mohallah, which is sung by Wajid and Mika Singh. The music was a bit too sloppy for my liking and the vocals were not phenomenal in any way. It's a bit of a silly song which does not have any long-term appeal. I just felt that Sajid-Wajid could have pulled of something better with this one but unfortunately they don't. Skip it in my opinion as there are much better offerings in this album compared to this one.
Following this is Dhichkyaaon Doom Doom which is performed by Ali Zafar and Shreya Ghoshal. I really love this song and it's definitely one of the highlights of this album. Both Ali and Shreya deliver amazing vocals in this one and the music has a nice kick to it. There is also a second version with Shreya and Wajid, who takes over from Ali for the male vocals. I personally found the first version to be more enjoyable as Ali's voice compliments the tone of this song better. I think the first version of 'Dhichkyaoon Doom Doom' will win the hearts of many people. Hence, give it a listen and see if it wins your hear toot!
Next up we have Early Morning, performed by the evergreen Sonu Nigam. I can sense that the music directors have tried to experiment a little with this song. There are range of instruments which can be heard such as the trumpets, drums, flutes, violin and the piano. However, despite the brave attempt made by Sajid-Wajid, I found that the only real appeal with this song is Sonu's voice. Sonu really sings with perfection in this one so if you decide to listen to 'Early Morning,' do so just so you can hear his amazing voice. In addition, there is a remix version to this song which is sung by Ali Zafar and Limitless. This version has a completely different flavour to it and is more urban in feel and sound. However, it is average overall and I think it will only appeal to a handful of listeners.
There is also Andha Ghoda Race Mein Dauda, which is sung by Wajid, Ali Zafar and Neuman Pinto. There are a lot of rock samples contained in the composition and the vocals are oozing with energy. It is certainly a track which will appeal to the guys since it has a masculine edge and feel to it. Definitely look out for this one!
Lastly we have Har Ek Friend Kamina Hota Hai, which is sung by Sonu Nigam. I like the upbeat instruments which are employed for the composition such as the trumpets and drums. Of course, Sonu is as great as ever and does not deliver flawed vocals in any way. Although I like this song, it certainly is not one that I will grow to love. However, do not be put off from listening to it as it does have some appeal which may attract the ears of many listeners.
To sum up, the soundtrack to Chashme Baddoor does have some good moments which you can certainly look forward to. Yet I feel that Sajid-Wajid could have created something more amazing with this one. In all honestly, this album is average and I doubt that it will become a classic as time passes. Yet songs like 'Dhichkyaoon Doom Doom,' 'Andha Ghoda Race Mein Dauda' and 'Har Ek Friend Kamina Hota Hai' does make Chashme Baddoor an album that is just about worth the listen. So try it out and perhaps it will grow on you!