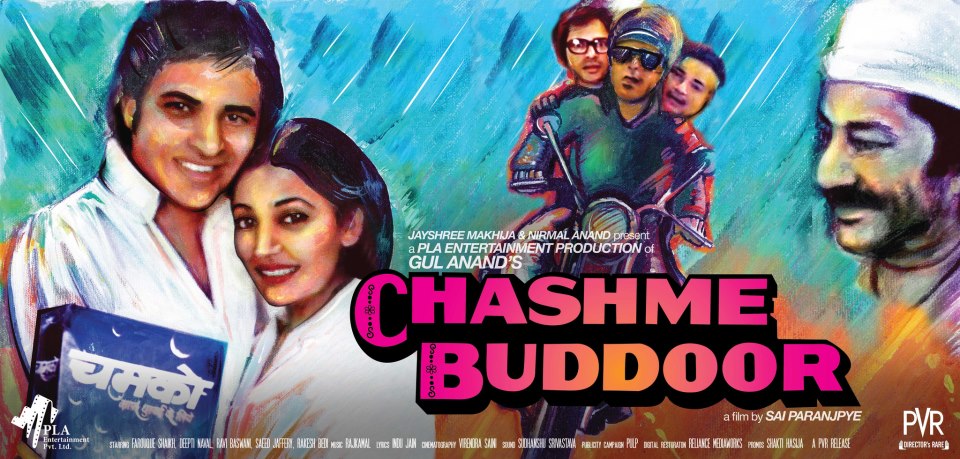 Possibly the first time in the history of Indian Cinema, a digitally restored version of the cult classic "Chashme Buddoor" released in 1981 will hit the screens on April 5th, the same day as its modern-day remake opens in cinemas.
More than three decades after it was first released, Sai Paranjpe's classic comedy "Chashme Buddoor" starring Farooque Shaikh, Rakesh Bedi, Ravi Baswani and Deepti Naval, is being re-released under the PVR Directors Rare Banner. While the 2013 David Dhawan directed remake starring Ali Zafar, Tapsee Pannu, Sidharth and Divyendu has the elements and soul of its original, in an earlier interview, Ali Zafar said the latter has been tailored to suit today's audiences.
Shiladitya Bora, head of Director's Rare, the alternative programming wing of the PVR multiplex chain says, "Earlier we had decided to release it one week ahead and then decided to do it on the same day because the buzz will be maximum during that time" further adding that it would be unfair to compare the two films as the original opens in a limited release for the niche audience unlike Dhawan's remake which will see a worldwide theatrical release.
Part of the Indian pop culture since 1981, director Paranjpe's satirical comedy has found a dedicated fan-base over the years, which Bora hopes will translate into a successful run for the re-release of the film, which will subsequently encourage them to re-release many such classics.
The original 'Chashme Buddoor' will see a limited India release. Please check updated cinema listing for theatrical release on April 5th.
WATCH THE OFFICIAL RE-RELEASE TRAILER HERE
[jwplayer mediaid="56741″]