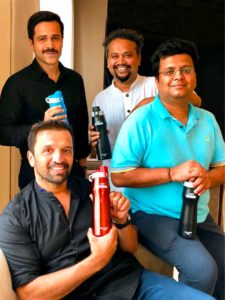 Ellipsis Entertainment, spearheaded by Tanuj Garg and Atul Kasbekar, has established itself as a content powerhouse having previously made award winning motion pictures like 'Neerja' and 'Tumhari Sulu'.
On Ellipsis' upcoming production 'Cheat India' (jointly produced by T-Series and Emraan Hashmi Films), in their efforts to be ecologically friendly, Ellipsis associated with Milton to provide Unisteel bottles to the crew for drinking water on set.
Milton's Unisteel bottles kept the film's cast and crew hydrated with cool water in spite of the blistering heat of Lucknow.
Ellipsis partner Atul Kasbekar said, "Apart from being eco-friendly, the bottle design is very stylish and sturdy and hence it is handy to carry around on the sets. Everyone from Emraan, to our director Soumik, down to the light-men and setting crew, were given individual numbered bottles in different colors, which the crew decorated and made their own! In fact, I now have various other directors that we are associating with, asking for their personal bottles!"
So while 'Cheat India' promises to expose the vagaries of the education system, the producers are doing their bit to protect the fragile ecosystem of the planet!
'Cheat India' releases worldwide on January 25, 2019.