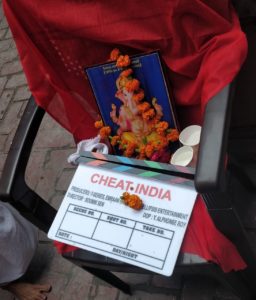 Produced by Ellipsis Entertainment, Emraan Hashmi Films and T-Series, the shoot of the keenly awaited Emraan Hashmi-starrer Cheat India, directed by Soumik Sen began filming yesterday in Lucknow.
Cheat India, is a never-seen-before peek into the vagaries of the Indian education system. Clearly aimed at Indian students, this edge-of-the-seat Emraan Hashmi-starrer have cast more than 70 actors from UP, including real students from various colleges and universities.
The makers released an interesting video of Emraan playing with the alphabets of 'Teach', which ironically, are the same as those of 'Cheat'.
Hashmi's naughty wink at the end leaves you wondering whether he's the hunter or the villain!
Let the exams begin ! #CheatIndia @EmraanHFilms @EllipsisEntt @TSeries #cheatindia . All the best @bangdu pic.twitter.com/eygvB4NLrS

— emraan hashmi (@emraanhashmi) July 25, 2018
Cheat India is set to hit the silver screen on 25th January 2019.