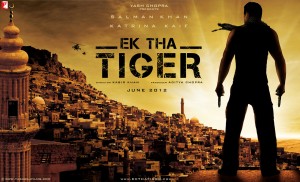 Directed by Kabir Khan, Ek Tha Tiger the highly anticipated romantic thriller starring Salman Khan and Katrina Kaif is set to release this Eid. With the tagline: "All his life he fought for his country. This time he will fight for his love" needless to say we are very, very intrigued.
Talking about the film and Katrina's character, director Kabir Khan said on Twitter, "This is a fantastic role for Katrina. Trust me… there is a reason why I am silent on Katrina for now :-)"
And about Salman, he says no one else could have played Tiger.
And what was Salman's reaction when he saw this teaser? Superb!
Interestingly the teaser was not supposed to come online or on air until Monday, it was just going to premiere in front of Ishaqzaade at the cinema, but the outcry and clamour and excitement to see it now now now was so big that YRF and Kabir Khan decided to go ahead and treat Salman Khan fans!
So check out this brand new teaser trailer! Superb in your opinion? All we can say is WHOA, how long until Eid? Seriously could Salman Khan be any Hotter?
httpvh://youtu.be/yqz5WTJMLEw