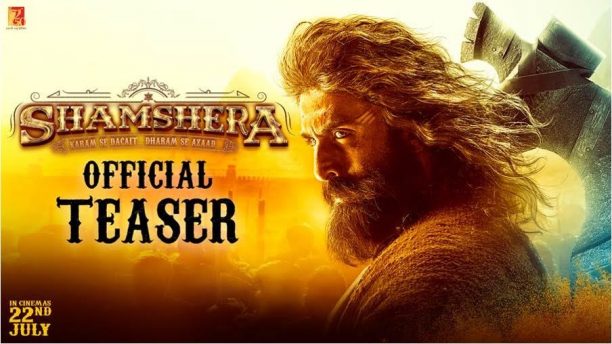 We have your eagerly awaited first look into the highly anticipated film Shamshera. A Yash Raj Films production, this epic action packed drama stars Ranbir Kapoor, Sanjay Dutt and Vaani Kapoor and is directed by Karan Malhotra.
Taking place in the 1800s Shamshera is set in the fictional city of Kaza, where a warrior tribe is imprisoned, enslaved, and tortured by a ruthless authoritarian general, Shudh Singh. Shamshera is the saga of a man who became a slave, an enslaved person who became a leader, and then a legend for his tribe. He relentlessly fights for his tribe's freedom and dignity. His name is Shamshera.
Today we were treated to a teaser to get fans excited for what's in store when the film hits the big screen!

Now, this was just a sneak peek, we will see more when the trailer drops on Friday! Watch this space because you can be sure we will bring you all the scoop!
Shamshera will release on 22nd July in IMAX in Hindi, Tamil & Telugu.
We can't wait!