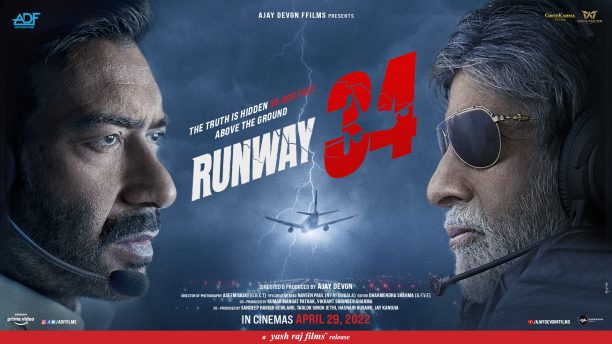 We have a brand new look into the highly anticipated Runway 34, which was directed and stars Ajay Devgn, as well as Amitavh Bachchan.
Ajay Devgn plays a pilot who must manage to land his flight amid extremely bad weather conditions. The film also stars Rakul Preet Singh as his co-pilot and Amitabh Bachchan, who plays a lawyer.
Inspired by true incidents, Runway 34, is a story about Captain Vikrant Khanna, a flying prodigy of sorts, who was determined to save the lives of 150 people when things went awry 35,000 feet above sea level. Followed by an official investigation to determine, what and how things unravelled, this edge of the seat thriller takes a look at what happened on that fateful morning inside that cockpit and outside of it; what triggered the incident and what the incident triggered.
Earlier Amitabh Bachchan revealed why he decided to take part in the film. He says, "Him and me had a very long association that began with his father Veeru Devgn. It's been many many years together. He has a massive contribution to my film back in the days."
In his turn, Ajay Devgn revealed that he wouldn't even make the film if Amitabh said no. "In this film, for Mr. Bachchan's role, if he wouldn't have agreed, I don't even know if I would be able to cast (anyone else). I don't think I would be making the film. I've known him ever since I was a child. I would visit his set often. Later, I went on to work with him in six films."
Check out the brand new trailer that gives a sneak peek into the drama, thrills, mysteries and suspense that is to come when Runway 34 hits the big screen on April 29th!