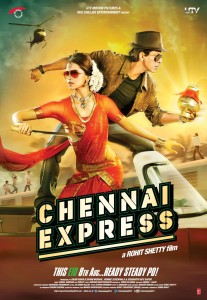 Chennai Express has done the unimaginable. The film has crossed the 150 crore mark in a little over 7 days, and hence not just created huge records but also set higher standards for films to follow. What had seemed like a great start has further led to an all around terrific week with consistent collections all over, hence reaffirming once again that the film has seen massive acceptance across board. In fact, just in it has a 156.7 cr Week One total.
There was not even a single day when the film didn't meet the 10 crore mark, which is a fantabulous feat by all means. Though a few ignorant souls have attributed this to higher print count, it is still sheer common sense that supply can work only if there is demand. What's the point in flooding a product if there are no takers? Large number of people wanted to (and did) watch the film and a large print count was justified.
Rather than being cynical of the film's release strategy, let us celebrate it's sucess and Bollywood business growth in general. The way this Shahrukh Khan, Rohit Shetty and Deepika Padukone film is going, there are good chances now for it to cross 3 Idiots record of 202 crore. Let's wait and watch!