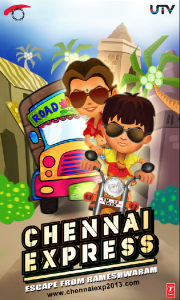 Shah Rukh Khan and director Rohit Shetty launched the official Chennai Express mobile game last week at Reliance Digital Xpress in Prabhadevi, Mumbai in order to coincide with the film's release. In this game, Rahul (SRK's character) is on a journey where he has to cross a number of obstacles in like trucks, buses and manholes, as well as thugs from Chennai. Gamers can also unlock an exclusive Deepika Padukone avatar if the player collects more than 10,000 coins during one game session.
Speaking about this unique mobile game, Shah Rukh had this to say to the Indian media. "To capture a movie in a game format is one of the most difficult and creatively challenging things to do. The movie has a vision and a theme, which a game needs to carry forward. This game captures the theme, the graphics and the mood of the movie brilliantly. I'm glad we have brought a game that people will find engrossing and easy to be a part of. I had a lot of fun being a part of the process of making this game."
Rohit Shetty also praised the game and how entertaining it is. "Games have become serious business. I am glad we have been able to make Chennai Express a part of the gaming world." During the launch, Shah Rukh and Rohit took part in a friendly competition where they showed off their gaming skills.
There are three versions of the Chennai Express mobile game and you can download your copy of the iOS version when it releases on 9 August, the same day as the film's release!