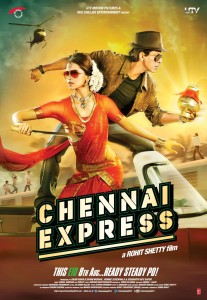 Surely everyone will agree that comedy is perhaps the most difficult genre to make in Hindi Cinema. Whether it is the script, the direction or even the performances, the ability to make people laugh is a complex task which requires immense skill and talent. After viewing Rohit Shetty's much anticipated film Chennai Express, it can be declared that this is definitely a film full of humour and will no doubt put a smile on your face. It is the big Eid release which has also garnered major international interest. Starring superstars Shah Rukh Khan and Deepika Padukone, Shetty manages to carve here a film which has some great comedic moments with a strong South Indian touch to it!
Chennai Express is essentially based on a middle-aged man named Rahul (Shah Rukh Khan) who is sent by his grandmother to immerse his grandfather's ashes at a river in the South Indian city of Rameshwaram. During his journey, he encounters the beautiful and spunky Meena (Deepika Padukone) on a train to Chennai. Meena has run away from her family home in order to avoid marrying a guy of her gangster father's choosing. However, her father's hired goons catch up with her and Rahul is now a part of this highly dangerous scenario. Meena does not want to marry Tangaballi (Nikitin Dheer) and wants the freedom to make her own decisions. Whilst she is trying to escape from her father's clutches, she grows highly fond of Rahul, who accompanies her during her journey. Does Rahul reciprocate Meena's feelings? Will she attain her freedom to marry whomever she wants? You will have to watch Chennai Express yourselves to uncover how this masala flick draws to a close.
Chennai Express does have some very enjoyable moments that are genuinely funny and have been well-written also. Having directed numerous comedies in the past, Rohit Shetty is attempting here to popularise the comedy genre in Bollywood by casting two huge stars to headline it. To a certain extent, Shetty does manage to achieve what he wanted and this film will indeed be well-appreciated by the masses for its unique wit. The action sequences have been well-made and they definitely contribute in giving the film some much needed intensity to it. The cinematography also deserves a mention, as there are some wonderful scenes which successfully manage to glamorise South India, as well as Tamil culture. However, despite the positive elements to Chennai Express, it cannot be classified as path-breaking cinema, since the story is slightly predictable, with a few of the jokes being dull also. Nevertheless, it still deserves a watch for its brave attempt in trying to be a full-on entertaining film.
Shah Rukh Khan delivers a nuanced performance as the leading male in this film. Comedy is something which the 47 year old actor rarely indulges in and he is largely renowned for his romantic/dramatic roles. Therefore, Shah Rukh does deserve commendation for offering the audience, as well as his millions of loyal fans, with a fresh (though at times over the top) avtaar. Deepika Padukone was especially great as the loveable Meena and this is arguably her second greatest performance after Cocktail (2012). She manages to get the South Indian accent just right and there certain scenes where she will really make you laugh out loud! You cannot imagine her contemporaries taking on a character that is evidently demanding and requires you to give it a great deal of authenticity. Hence, this film was surely destined for Deepika, who performs with absolute passion and grace throughout.
The music to Chennai Express by Vishal-Shekhar is pleasant and there are some well-composed tunes which were clearly done whilst keeping in mind the film's central theme and story. Songs such as 'One Two Three Four (Get on the Dance Floor),' 'Titli,' 'Kashmir Main, Tu Kanyakumari' and 'Tera Raasta Chhodoon Na' are full of nice South Indian flavours and the lyrics have also been finely penned by Amitabh Bhattacharya. In particular, 'Tera Raasta Chhodoon Na' stands out from the lot for its extremely romantic lyrics and praiseworthy vocals from Bhattacharya. The music does have potential to become a classic and may continue to be appreciated in the years to come.
On the whole, Chennai Express has a masala of comedy, action, romance and drama which will keep you entertained from beginning to end. Though it is by no means perfect, Rohit Shetty does handle the majority of this film quite well; which may be of some inspiration for future filmmakers seeking to produce and direct a fresh Bollywood comedy. In addition, it can be safely said that Chennai Express ends Shah Rukh Khan's lean phase, given that he starred in some less appreciated films in recent years. With Chennai Express, you will see the King of Bollywood back at his best and proving that he still has the talent and determination needed to keep audiences entertained. Thus, make the time to get on this train and witness a delightful story unfolds before your eyes!