Of course we are all in a Bollytizzy to see more of Rohit Shetty's Chennai Express starring Shah Rukh Khan and Deepika Padukone and we have the synopsis right here!
The story of a Mumbai boy (Shah Rukh Khan) who embarks on a journey to a small town in Tamil Nadu, only to fulfill the last wish of his grandfather to have his ashes immersed in Rameshwaram. En route, he meets a South Indian girl (Deepika Padukone) hailing from an orthodox family. As they find love through this journey in the exuberant lands of South India, the clash of cultures awaits them. What follows is a series of adventures where he finds himself in new surroundings, challenged with an unfamiliar language! Chennai Express is the story Rahul who lands up in a totally unexpected journey that makes him the realize the importance of Love, Life, Relationships and Sacrifice. A hilarious journey which teaches you about the serious relationships in life.
Ready Steady PO!
Renowned director Rohit Shetty (Singham, Golmaal 3) turns his talent for fast-paced action thrillers to this summer's Bollywood sensation CHENNAI EXPRESS! Set to delight audiences across the globe, CHENNAI EXPRESS features music from Vishal-Shekhar and lyrics by Amitabh Bhattacharya and is produced by UTV Motion Pictures and Red Chillies Entertainment.
CHENNAI EXPRESS is an action packed romantic movie ready to hit theaters worldwide on August 8th!
Character sketches: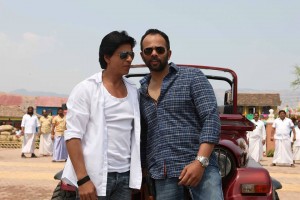 Rahul played by Shah Rukh Khan is a North Indian bachelor who stays with his grandparents in Mumbai. Rahul couldn't get married to anyone because of his over-loving and over possessive Grandfather who cannot live without him. Rahul accidentally boards a train that not only takes him to his destination but also makes him realise the power of true love.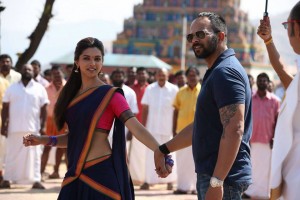 Meena played by Deepika Padukone is very fondly referred to as Meenamma by her loved ones. She is a South India lady who stays in Komban village with her huge family.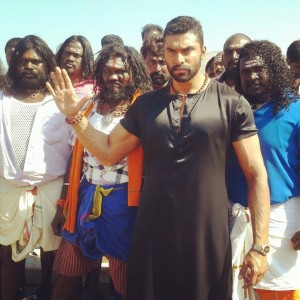 Tangaballi played by Nikitin Dheer is a Periyatalay of another village, Meenamma's father is very fond of him.
Some new photos!