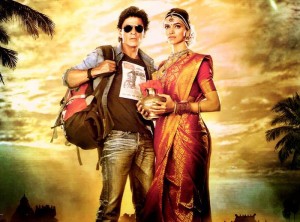 Rohit Shetty's Chennai Express starring actors Shah Rukh Khan and Deepika Padukone is slated to release on August 8th 2013. With just under 2 weeks to go till it hits the silver screens the actors are believed to be busy promoting their film. Alongside their busy promotional schedules however, reports suggest the stars will also be involved in a charitable auction too.
Both Shah Rukh and Deepika will be seen donning South Indian style costumes for Chennai Express, and are apparently interested in auctioning some of these particular outfits. All funds collected from the auction will then be donated to a charitable organisation.
A source told the IANS: 'people are really appreciating the different looks donned by the actors', which is perhaps why both Shah Rukh and Deepika would like to auction them for a better cause! If sources are believed to be true, lets hope this auction is a great success!