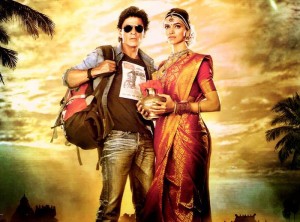 Disney UTV's Chennai Express, starring Deepika Padukone and Shah Rukh Khan is all set to release today in UK cinemas.
While the film is officially out in UK cinemas on Friday, there will be evening previews today of the film nationwide.
Chennai Express is opening at approximately 125 sites on over 170 screens. The Rohit Shetty directorial is also releasing in non-traditional cinemas such as at Vue Cinemas, Westfield Shopping Centre in Shepherds Bush, West London which has never before screened a Bollywood film. Cineworld Hammersmith is another site which is not known for showing Bollywood films but will have a good number of shows for Chennai Express.
We bring you an exclusive UK cinema listing:
Cineworld Cinemas
http://www.cineworld.co.uk/
Cineworld (The O2)
Cineworld Aberdeen (Queens)
Cineworld Aldershot
Cineworld Ashford
Cineworld Ashton
Cineworld Bedford
Cineworld Bexley Heath
Cineworld Birm Broadst
Cineworld Boldon
Cineworld Bolton
Cineworld Bradford
Cineworld Brighton
Cineworld Bristol
Cineworld Burton
Cineworld Cambridge
Cineworld Cardiff
Cineworld Cheltenham
Cineworld Chester
Cineworld Crawley
Cineworld Didsbury
Cineworld Dublin
Cineworld Dundee
Cineworld Edinburgh
Cineworld Enfield
Cineworld Feltham
Cineworld Glasgow Renfrew Street
Cineworld Haymarket
Cineworld High Wycombe
Cineworld Hull
Cineworld Ilford
Cineworld Ipswich
Cineworld Jersey
Cineworld Liverpool
Cineworld Luton
Cineworld Middlesbrough
Cineworld Milton Keynes
Cineworld Northampton
Cineworld Nottingham
Cineworld Rochester
Cineworld Rugby
Cineworld Shaftesbury
Cineworld Sheffield
Cineworld Southampton
Cineworld Staples Corner
Cineworld Stevenage
Cineworld Stockport
Cineworld Swindon
Cineworld Wandsworth
Cineworld West India Q
Cineworld Wolverhmpton
Cineworld Wood Green
Empire Cinemas
http://www.empirecinemas.co.uk/
Empire Slough
Odeon Cinemas
http://www.odeon.co.uk/
Odeon Basingstoke
Odeon Belfast
Odeon Bournemouth
Odeon Bradford
Odeon Cardiff
Odeon Freemans Park
Odeon Glasgow Quay
Odeon Greenwich
Odeon Huddersfield
Odeon Kingston
Odeon Liverpool One
Odeon Manchester
Odeon Marble Arch
Odeon Meteor Centre
Odeon Metrocentre
Odeon Norwich
Odeon Parc Tawe
Odeon Riversway
Odeon Rochdale
Odeon Skydome Coventry
Odeon Southampton
Odeon Stoke
Odeon Trafford Centre
Odeon Uxbridge
Odeon West Bromwich
Odeon Whiteleys (The Lounge)
Odeon Wimbledon
Odeon Worcester
Showcase Cinemas
http://www.showcasecinemas.co.uk/
Showcase Bluewater
Showcase Coventry
Showcase Derby Foresters Park
Showcase Dudley
Showcase Leicester De Lux
Showcase Newham
Showcase Peterborough
Picture Houses
http://www.picturehouses.co.uk/cinema/Stratford_London/
Stratford East Picture House
Vue Cinemas
Vue (The Rock) Bury
Vue Acton
Vue Bicester
Vue Blackburn
Vue Camberley
Vue Cambridge
Vue Cheshire Oaks
Vue Croydon Grants
Vue Croydon Pw
Vue Edinburgh Ocean
Vue Finchley North
Vue Finchley Road
Vue Halifax
Vue Harrow
Vue Hull
Vue Leamington Spa
Vue Leeds Kirkstall
Vue Leeds Light
Vue Leicester
Vue Oxford
Vue Plymouth
Vue Reading
Vue Scunthorpe
Vue Shepherds Bush
Vue Star City Birmingham
Vue Thurrock
Vue Watford
Vue Westfield (London Shepherds Bush)
Vue Westfield Stratford
Vue York
Safari Cinema Harrow
http://safaricinema.com.gridhosted.co.uk/
Piccadilly Green Lane (Green Lane)
http://www.piccadillycinemas.co.uk/