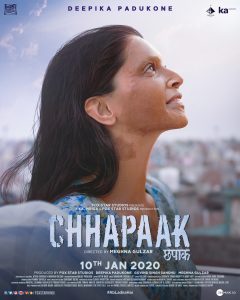 Chhapaak
Starring Deepika Padukone, Vikrant Massey,
Directed by Meghna Gulzar
What a splash Meghna Gulzar makes with Chhapaak! This sensitive stunning film about a real-life acid-attack victim's attempt to rebuild her life as surgeons try to put together her shattered face, could easily have vacillated between cringe-inducing melodrama and unrealistic optimism. In this gut-wrenching masterpiece she has co-scripted with Atika Chohan, Meghna Gulzar allows herself no easy exits.
The fluent and virile narration (editor Nitin Baid does a splendid job of re-constructing the saga of the protagonist's shattered life) drags us into the protagonist Malti's fight to win justice against her attacker and dares us to leave her to her own devices.
This, I am happy to say, is impossible to do. Chhapaak persuades us with gentle hands to remain invested in Malti's battle as she and her lawyer (an incredible career-making performance by Madhurjeet Sarghi) refuse to play the victim card. Nope.
Not at all! If the acid-attacked Laxmi Aggarwal, here re-christened Malti, hoped to get us teary-eyed through sympathy waves, then she is in the wrong film. Meghna Gulzar, who has now proven beyond doubt to be one of the finest contemporary filmmakers in India, offers Malti no grace period for mourning and sobbing. There is the business of re-building one's life to attend to.
When Malti sees her battered face in the mirror after the attack, her primeval scream is a battle cry. Relentlessly the narrative pieces together Malti's shattered life, triumphantly taking her from the depths of disenchantment to a hard-won faith in her struggle to win over the harsh blow that life has dealt her.
Throughout Meghna Gulzar's delicately constructed saga of ruination and restoration Deepika Padukone remains unconditionally committed to be respectful, faithful, and honest to her character. When Malti wins a hard-earned point in the court her dance of joy envelopes our hearts. We live every moment of Malti's pain and recovery. This is not an easy film to experience.
Yes, Deepika's post-attack prosthetics are frighteningly real and they go a long way in enhancing her performance. But what Deepika does to Malti is much more than cosmetic. Deepika mines the diehard optimism in this wounded girl, excavates a sense of joy in living even when life treats her with such cruelty. Make no mistake. This is Deepika's finest hour.
As the story of Malti's struggle unfolds others join in her struggle for justice. Most important among her support system is the angry Anmol. As played by the ever-dependable Vikrant Massey, Anmol is a coiled bundle of indignation, an embodiment of the pain when the right people suffer as evil tails their joy. The closest I've seen to such implosive anger was Naseeruddin Shah in Sagar Sarhadi's Bazar. That was another struggle, a different anger.
Chhapaak tells us how a happy individual's life can change in a split second. It also takes a subtle aim at our legal system which favours the privileged. There are many alcoves of meditative beauty in this film when you feel the presence of hope and faith during times of unimaginable darkness. And therein lies the real beauty of a film which won't take short cuts to salvation for its wronged heroine.
This is a great film, far greater than Meghna Gulzar's lauded Talvar and Raazi for only one reason. It knows life's most precious secret. Pain cannot be cut short by good intentions. Like love, destiny will take its time.