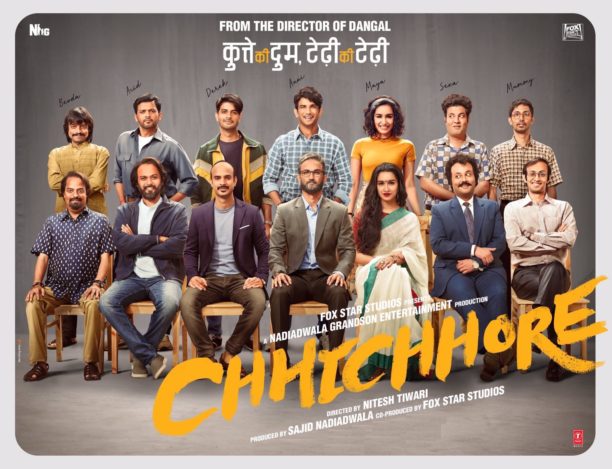 Chhichhore is the new film starring Shraddha Kapoor and Sushant Singh Rajput with music given by Pritam. From the title and the original poster, the movie seems to be about shallow, superficial and/or worthless friendships formed in college re-rooting themselves years on. The trailer goes on to flesh this out with a line about how good friends will make fun of you in the good times but when times are bad are the first to be around you for support; "…to wohi chhichhore darwaze par nazar aate hai". So, from this album it can be expected that there will be a lot about relationships, there will be a lot about emotions but mostly there will be everything to do with friendship and the bonds that it creates.
The album itself contains a couple of different editions of the same song starting with Woh Din and Woh Din (film version). The first is sung by Arijit Singh, the second by Tushar Joshi but outside of that there is no difference to be heard between these songs. Both are whistling, journey songs with a feel-good vibe provided by a male chorus. An acoustic guitar wraps it all up in a way that is both typically Arijit Singh but also like a lot of Amit Trivedi's works. Yet Pritam finds a way to step out of the Amit Trivedi shadow to find a pleasant sound tinged with sadness and fits a likely college vision drawn in "Yaadon ke album" as per the song's lyrics. The reason behind Tushar Joshi's version being the film version is not clear, Arijit being a superior singer but maybe the visuals lend themselves to a more softly, softly approach.
The other dual-edition piece is Khairiyat. One is the film version, the other a bonus track for the album only… a sort of unplugged edition. This time both are sung by Arijit, the first with sweeping violins driving a sad narrative. The heavy drum heartbeat and piano for gravitas sell a very sad sound probably surrounding the inciting incident of this film. As this does seem to flip the narrative even in the trailer from happy-go-lucky college days to an older group in trouble, this song is fairly critical story wise. Lyrics like "Tumhare bin deewane ka kya haal hai" and of course the title "Khairiyat pucho kabhi to" strike daggers at the heart. The unplugged edition as a bonus track removes the violins in favour of Arijit and a piano; depending on the film's ending it could be used there or just purely a homage to the fans… one for the listeners.
While 'Khairiyat' is likely to produce the inciting incident of the film, Kal Ki Hi Baat Hai by KK brings the story directly to the main family grouping at the heart of this story. "Bahoon mein pehli baar aaya tha tu, kal ki hi baat hai" reminds audiences that moments however old or ancient, if they have relevance in life, can feel like they were just yesterday. This is sure to resonate with cinemagoers, as who can not find a memory that feel like it was yesterday but actually from much further back. It is questionable whether KK was the right singer for this song; as a singer his pitches and tones are perfect but there seems to be an extra desperation to the sound which is not quite matched by his voice. Matched against this, however, is the clarinet or oboe which processes behind KK throughout the piece and certainly gives it all a very different sound.
Sad parts of the album out of the way the next piece is Fikar Not. Matched up with the final song of this album Control, they make for quite the fun pair of college days ka rose tinted spectacles. 'Fikar Not' is Bobby McFerrin's 'Don't Worry Be Happy' but with an Eastern European version and Spanish flamenco. Dev Negi and Nakash Aziz are followed around the song by an accordion and Spanish acoustic guitar bringing both the dance but not actual dancing. 'Control' goes the other way finding dark but satirical vibes about getting some control over the self, working out where a character fits into society and understanding social pressures. Still its light hearted enough to not take itself too seriously in any way with Nakash Aziz keeping everything very light overall.
Pritam Chakraborty is listed in Wikipedia as an instrumentalist, electronic guitar player, singer and music composer for Bollywood films. He is both a many times award winner and also is alleged to have lifted 52 songs from various sources over the years. However, one theme that has stuck with Pritam throughout is that he struggles to do sad songs well. There is too much sadness, or too much levity having either bright beats to sad moments or near weeping desperation in his singer's voices. Nevertheless, there can be no doubt that he is capable of getting individual songs on target such as Ae Dil Hai Muskhil's title song and overall this is the feeling from this album too. Khairiyat is another masterwork of Arijit Singh and music director but the rest of the album never quite seems to get the tone right.