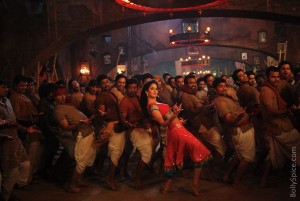 In her sizzling item number 'Chikni Chameli' in Agneepath, Katrina Kaif has gone to another level as a dancer. The moves are so different from what we have ever seen her do before and she does them with style, energy, and smoky fire! Fans seem to agree because as of today the song has had close to 4 million hits on YouTube alone in just 10 days.
She may make it look easy in the video, but actually Katrina says that doing the rustic choreography was a challenge. "It was hard work. It was very fast and it was not a style I was used to, but I took it as a challenge…I think we all went for it as a team and did the best we could. I am happy people are liking it."
Apparently Katrina trained hard to get down the moves perfectly to match up to the very powerful and fast percussive beat of the song. Producer Karan Johar told TOI, "I've never seen any mainstream actor do such rigorous training for a song. For ten days, she did eight-hour rehearsals everyday. And then we took another ten days to shoot the song. So, I really think we should applaud her efforts especially because she's gone into a zone she's never been to before."
About the success of the number, director Karan Malhotra said, "I think the way the song was made, it was so wonderful, that only a topmost actress could have done justice to the song. And as far as Katrina is concerned, her USP is that she has never been seen in any film in that kind of zone that 'Chikni chameli' is in…which is why she also stands out in that atmosphere and that is why the song is catching a lot of eyeballs."
Composed by music directors Ajay-Atul they also had nothing but praise for the way the actress performed the steps to their Marathi infused beats, "This song has a very high tempo and requires speed in steps. Even if I or someone else wants to dance to it, you cannot match up to the tempo for more than two minutes. But Katrina just took it to another level. She has left us speechless," said Atul.
Amazingly this is only an item number, there is much more to come when Agneepath, which stars Hrithik Roshan, Priyanka Chopra, Sanjay Dutt and Rishi Kapoor hits theaters on January 26th.