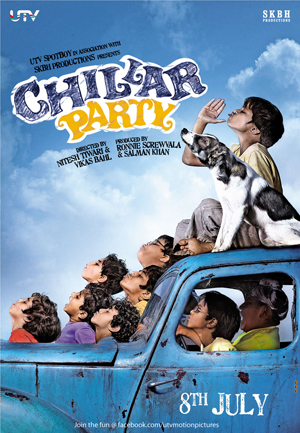 Where do you begin with a film like Chillar Party? Backed by Salman Khan Being Human Productions and UTV Motion Pictures, the film first caught the eyes of the audience with some excellent promos that tickled the funny bone and also left us curious. Adding to that was the appearance of Salman Khan, not only as the narrator, but for the first time, under the producer title as well. With a fresh batch of child artists, Amit Trivedi for chaddi clad booty-shaking tracks and the hyped item number by Ranbir Kapoor, Chillar Party had enough to get a decent initial start but did it have enough to bring in more than just chillar. Yes and no.
First, we begin with introductions of the group. Jhangya (Naman Jain), Encyclopedia (Sarath Menon), Akram (Rohan Grover), Panauti (Chinmai Chandranshuh), Aflatoon (Aarav Khanna), Second Hand (Vishesh Tiwari), Silencer (Vedant Desai), and Shaolin (Divij Handa) all live in the same colony and go to the same school. Each one unique in character, the kids have only two things to worry about: the local dog that likes to use their cricket ground as a toilet and the big kids from a close by colony that they keep losing to in cricket games. While one is a burden they have to put up with, the other is one they are determined not to keep doing. Yet life is running smoothly. That is till they meet Phatka [Irrfan Khan] and his pet dog Bhidu. After the initial rivalry, the boys warm up to Phatka so much that they are ready to take on any competition. And for Phatka and the boys, the competition will be the local politician Bhide [Shashank Shende] out to make a name for himself. With the secretary of the colony in his pocket, Bhide wants to get rid of Phatka's dog for humiliating him on the inaugural day of the local playground. But while the all-wise adults give up on them, the kids of Chillar Party decide to take on the politician and the adults of the colony themselves, chaddis and all, in a challenge to prove a point and help a friend.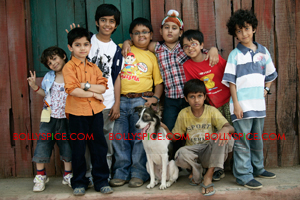 Making a film with one child in the lead who has the sincerity and honesty required just like an adult is nothing short of a feat. One extra step on either side, and the performance becomes caricaturish and loses the innocence. But to have a predominantly child artist based cast is like walking on ice able to crack at any moment. Yet Vikas Bahl and Nitesh Tiwari have pulled together an awesome bunch of kids who not only pull it off, but carry the film all the way through. Each one has a characteristic which makes them endearing, funny, and downright adorable. Literally, you cannot say who stands out more. Confident in their portrayal, each one is a superstar in kid size. It's unfortunate though for the adults of the cast who pitch in with good support, including Shashank Shende who is visibly mean as the politician, it is actually the superstar kids who rule the roost on this one.
On the technical side of things, cinematography flows seamlessly with each aspect and frame blending in beautifully, although editing could have been a little crisper. Music by Amit Trivedi works wonders with the narrative and is sure to have you shaking your chaddi-clad booties to the beat. At the same time, one of the big scene stealers has to be the writing by Vikas and Nitesh in conjunction with screenplay writer Vijay Maurya. Whether it's a serious moment or one that is inspiring, the cast and their innocence are sure to have you smiling. But that's not to say it isn't without its shortfalls. While it was fun the way the scene is set with introductions and back stories, the narrative takes its time to get on with the story. Coupled with a rather long second half the smiles do dwindle a bit. On the other hand, logic doesn't really have much to say in a film like this, which doesn't stray from reality when speaking about child labour but also has a mini David[s]-Goliath feel to it. Not entirely a problem though since you want the kids to win over the big bad politician. Plus when you take a look at the adorable faces acting all serious, it is hard to stay annoyed at the narrative.
All in all, with some sweet moments that make you smile, heartfelt ones that have you tear up and whole lot of fun makes Chillar Party a lovely experience for kids and adults alike, regardless of its shortfalls.