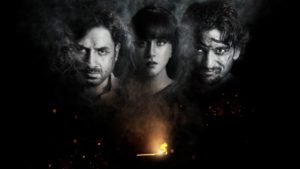 Raakh Ashes To Ashes
Starring Shaad Randhawa, Vir Das, Richa Chadha(guest appearance)
Directed Milap Milan Zaveri
Rating: ***(3 stars)
Vendetta is the flavour of the season, at least for the short film category .Just the other day I saw Adil Hussain, chilling in his avtar as a revenge seeker who had poor Vaquar Shaikh tied up battered bruised and dying in an abandoned warehouse.
It's déjà vu time now with Milap Zaveri, so far known for writing banana and dildo styled sex comedies, who hurls a steely revenge saga at us with a sure handed narrative style that is just short of being considered a clutter breaker for the purveyor of cheesy comedies.
The problem is, we've seen this before and as mentioned, quite recently. In the short film Bandhi Adil Hussain was far more powerful in his vendetta. The victim there was gagged and rendered voiceless. The portrait of vendetta was far more chilling because justice was being meted out by only one of the two players in the game of vendetta.
In Milap's darkly illuminated portrait of vengeance on a loop, the presence of the wrongdoer comes across more strongly than the man who has been wronged. Vir Das is the whitecollar husband whose wife (Richa Chadha as video-projected images on dingy walls) has been raped and murdered by the man who is now tied to a scaffold-like wooden projection all beaten and battered and sure to die.
How did that puny god-gearing wife-loving man get this ferocious randy animal into this godforsaken place, tie him and beat him to almost his last breath? Breathing fire and spewing salacious vitriol the rapist-murderer tells the infirm avenger, "Your wife was screaming in pain and pleasure as I raped her (the word he uses for copulation in Hindi is a very crude and disturbingly aggressive 'p' word )."
Yup, this guy deserves to die a painful death just like all the others who attack women on the streets or in homes. But hang on…the wimpy helpless avenger guy has other plans. His revenge takes off to another plane altogether which is a little hard to swallow and even harder to accept. And when Vira Das sat down to have what he described as his 'last supper' I again remembered Adil Hussain in Bandhi.
Distraught minds when faced by their wrongdoers, get hungry?
Nonetheless Raakh has much to recommend itself. It's shot in a grimy squalid location that represents and nails the characters' state of mind . These are two people who are doomed to die. What they say to each other is not important. What they've done to one another's life is really the issue here.In the pursuit of perverse justice this short film goes a long way.