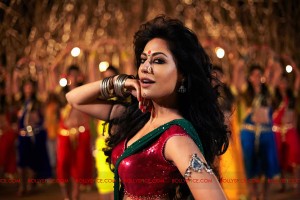 Eight years after her debut, Sudhir Mishra's find Chitragandha Singh has finally appeared on the B-Town map. It is a well known fact that whilst critical acclaim is always there for those who have mastered their art in the world of 'art house cinema' however success, commercial value and stardom seldom come to those. Perhaps it was the lack of these things that made Chitragandha switch to commercial cinema.
"It was a conscious decision. I was stuck in a rut doing the same intense performances in every 'art house' film. When Rohit Dhawan called me up for Desi Boyz, I was thrilled! Doing commercial cinema is fun. I wanted to do something different and glamourous and it was the perfect time to have got the role," said Chitragandha when questioned by TOI about the change in film choices.
And if you thought that Chitragandha was just tip toeing in the world of commercial Bollywood and would soon retract to her corner of parallel cinema then you thought wrong. She's already shot for an item number in Shirish Khunder's Akshay Kumar starred Joker. Now you don't get more commercial than an item number!
But it doesn't just end at an item number, two more commercial capers with two hunky heroes is lined up for the actress. She will be seen next with John Abraham in I Me Aur Mein directed by debutant Kapil Sharma. The film is a light hearted comedy that has five other heroines. Prachi Desai and Zareena Wahab have been supposedly signed on already however two more actresses are yet to be finalised.
After John, Chitragandha will return to working with Sudhir Mishra and will share screen space with Arjun Rampal in Mehrunissa. The film is said to be an ambitious period drama about a group of friends who are extremely close until they all fall in love with the same girl. Rishi Kapoor and Amitabh Bachchan are rumoured to be starring in the film also.
Well if this buzz is anything to go by it would be safe to say that Ms Singh has finally arrived! We already know she can act, now its time to see if she can do it in a completely new genre!