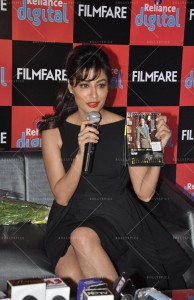 Reliance Digital has partnered up with India's leading Film and Entertainment magazine to launch a special calendar for the second year in succession. This year, the Reliance Digital Filmfare Calendar was launched by Bollywood Actress Chitrangada Singh at a glitzy function at the Auriga Restaurant in Mahalaxmi, Mumbai on 11th January.
"Filmfare has always been a part, whether it is a calendar shoot or Filmfare Awards. Filmfare is also an important property for the film industry as well," said Chitrangada Singh at the event. Jitesh Pillaai Editor Filmfare was quoted as saying, "It's a blockbuster of a calendar. This glamorous calendar allows the fans to get a sneak peek into their favourite Stars' digital basket. We are happy to be associated with Reliance Digital for our calendar, second year in a row."
The new calendar launched in association with Filmfare features Shah Rukh Khan, Kareena Kapoor Khan, Priyanka Chopra, Chitrangada Singh, Varun Dhawan all together, along with many other famous actors and actresses. In this, the stars also talk about their favorite gadgets and their love for technology. Many actors have also made appearances at Reliance Digital Stores and have professed to be fans of the chain.