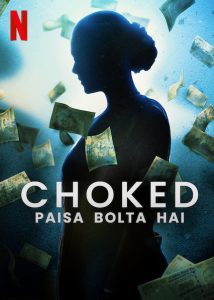 Choked Paisa Bolta Hai
Starring Saiyami Kher, Roshan Matthew, Amruta Subhash, Rajshree Deshpande
Directed by Anurag Kashyap
Our prime minister Narendra Modi makes a guest appearance in Choked, Anurag Kashyap's latest homage to the spirit of quirkiness where the characters are for once, not killing each other. This is Kashyap's first film where no one one dies a brutal death with their head smashed by a hammer or blown away by a gunshot. Thank Kashyap, the God of Gore, for small mercies.
Everyone lives in Choked, even when demonetization nearly kills them all. The people who inhabit Kashyap's universe this time are way too gentle by his standards. The most violent occurrence is a scuffle between two friends over a game of carrom.
Is the Wasseypur sharpshooter softening as he grows older? There is distinctive tenderness in tone specially when it comes to portraying the low middleclass couple Sarita and Sushant. She is the earning member. He is the house husband who is workless and therefore worthless.
"Tumhare paas time hi time hai," this is among the many spiteful digs Sarita makes at Sushant. But he is no a drunken wife-beater. In fact his protective love comes across most effectively in actor Roshan Matthew's performance. Matthews is very, very involved in finding a way out of his character's aimlessness.
Saiyami Kher is the film's hero. She is transformed in body language speech and appearance as an overworked underpaid bank accountant who one night wakes up to find wads of bank currency bubbling out of her clogged (ummm…choked) kitchen sink. This Guy Ritchie-Rich intervention could have been savagely funny were it not so sad.
Saiyami projects working-class greed with conviction. The very gifted Amruta Subhash is also excellent as Saiyami's neighbour. As we meet these workingclass characters there are wedding preparations going on in Amruta Subhash's home. And the lady is trying to curb her growing hysteria that comes bubbling out when Modiji announces the demonetization. How will she now make all the wedding payments? Will the tent-wala accept the crash in place of the cash?
There is a quirkily cute scene where we meet the bride-to-be just once . The scene written with rare care and casual fastidiousness (by Nihit Bhave ) takes a sly dig at the side-effects of over-indulgence in the social media.
Post-demonetization the narrative loses steam and becomes one mishmash of hurling episodes. As the economy slumps , so does the narrative, leaving us finally with a film that is better than most of what Kashyap has done in his career, but still not good enough to be called a breakthrough study of post-demonetization India when suddenly the 1000 rupee note fell apart.
Choked stays afloat, whenever it seems to sink into the sink water the actors pull it out.They seem far more protective of the film's destiny than it deserves.