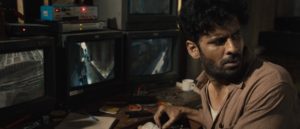 After creating marvels with his work in Hollywood with films like The Unraveling & Catching Fireflies to name a few, Chris Witt has now added his magic-hint to Manoj Bajpayee's forthcoming psychological thriller film, Gali Guleiyan. He has edited the film at length and the film trailer was surely a proof of his art.
The trailer interestingly narrates a story of a paranoid man who seemed trapped convoyed by constant flashes of incidents back and forth. The arrangement of shots in sync with a mind-bending story-line will surely leave you fascinated.
Chris is overwhelmed by the reactions and responses he's been receiving ever-since the trailer launch. Talking about the same, he quoted, "I'm proud to say this is my best work in over 20 years of editing! I'm super excited for the world to see Gali Guleiyan! Carefully crafting the performances of our ensemble cast, Gali Guleiyan gave me an opportunity to weave an intricate and unforgettable story that pushed me as an editor."
Written, directed and produced by debutant Dipesh Jain, the film certainly is a combination of story and thrill which is then perfectly balanced by an adequate amount of special effects. Commenting on the same, Chris further added, "I designed the rhythms and pacing to give the audience an emotional ride. Dipesh gave us technicians a movie to push the limits of our craft— the full experience can only be had in a theater. There are fewer movies today designed specifically for the movie theater. The editing of Gali Guleiyan aimed to pull out the best performances of the best actors anywhere—I hope you'll not miss this rare gem in modern cinema. I had a unique opportunity to let the audience peek into the mind of a tormented hero."
Not to forget about his past work, Chris has also impressed the audience with the apt editing skills he had showcased in the Oscar-nominated American-Indian short film, 'Kavi'. Bagging 2 awards and 6 nominations in his career so far, Chris is all set with his another chef-d'oeuvre Gali Guleiyan and we can't wait to watch in theatres soon.
Directed by debutant Dipesh Jain, produced by Shuchi Jain of Exstant Motion Pictures, GALI GULEIYAN will release in India and Worldwide on 7th September 2018.