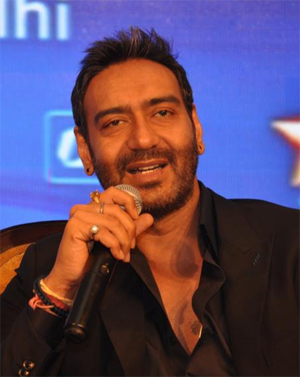 Ajay Devgn, who has been a part of Indian film industry for over two decades, was felicitated on October 19 for his valuable contribution to Indian cinema at the opening day of Confederation of Indian Industry (CII)'s Big Picture Summit.
The two-time National Award-winning film actor is today among Bollywood's most bankable box office stars. It isn't his crowd-pulling prowess alone that defines him. His approach to his star status sets him apart from the crowd.
Primarily, his fans get to see Devgn only on the big screen. As his public appearances are rare, the seasoned actor lets his films do the talking for him. Like a true-blue professional, he has steadily evolved with age even if it might be fair to say that not every huge box-office grosser that he spearheads today does justice to the actor in him.
Devgn projects a wide range of screen personas with effortless ease – from fire-spewing crime-busters in commercial potboilers to the poker-faced lead in the Golmaal series of laugh riots to strong and brooding men in intense, off-mainstream human dramas.
"When you are an actor you do not think about genres… When you are doing comedy you do think, 'Oh I wish I was doing a serious film as it takes less energy'. Comedy needs a lot of energy and timing. When you are doing action you feel it's tiring. I like to switch and do different things," Ajay said after being felicitated by Sudhanshu Vats, Chairman, CII National Committee on Media and Entertainment and Group CEO, Viacom 18 Media Pvt. Ltd, for his contribution to the Indian cinema.
For nearly a decade after his debut, he was seen by industry observers principally as a non-actor, an action hero with panache for crowd-pleasing flamboyance. His fight sequences, his on-screen stunts, and his rough and ready methods endeared him to many segments of the mass audience.
But that is a thing of the past although Devgan's action hero image is far from history as films such as Action Jackson and Son of Sardaar prove
By the turn of the millennium, the actor had added many new layers to his screen persona, which helped him bag the National Award for Best Actor twice in the span of five years – for Mahesh Bhatt's Zakhm (1998) and Rajkumar Santoshi's The Legend of Bhagat Singh (2002).
"I've worked with every kind of director. In the 1990s I was the first actor, who started working in so called 'art cinema'. Today it is not called art cinema as there are no films like 'Dil Kya Kare' or directors like Govind Nihalani, Rituparno Ghosh," the 46-year-old actor said.
While Zakhm was indeed the turning point of Devgn's career, he had begun to show signs of his latent emoting prowess much earlier, notably in films such as Naajayaz, made by Mahesh Bhatt in the mid-1990s.
"I had those films where people thought I was crazy as a commercial actor doing films like these. But I learned a lot from these films. Also I've a lot of respect for Mahesh Bhatt. The only thing I tell everybody and tell him also is that I wish he could come back and direct again. His last film that he directed was 'Zakhm' for which I got a National Award and after that he quit. So I really miss him," the actor said.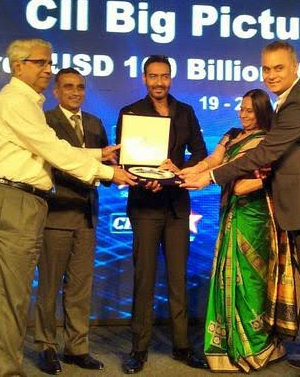 His powerful performance in Najaayaz, in which he, playing the illegitimate son of an underworld don, managed to hold his own against an actor of the proven calibre of Naseeruddin Shah, was applauded. People sat up and took notice of the brooding eyes, the ability to convey simmering anger with remarkable economy, and the willingness to experiment with character hues.
Devgn announced his arrival on the Bollywood firmament with a bang in 1991 with the super-successful Phool Aur Kaante. But for several years producers kept him pinned down to roles that exploited the stuntman in him, not the actor.
But he successfully broke free from those moorings and achieved greatness as a star and an actor. By experimenting with a wide array of genres, he has prevented himself from falling into the trap of any kind of stereotypes.
Today, at one end of the spectrum is his string of hard-hitting politically inflected films with Prakash Jha (Gangaajal, Apaharan, Rajneeti). On the other is his association with Rohit Shetty, with whom he has not only done the three Golmaal films and Bol Bachchan, but also Singham and Singham Returns.
The actor is also known for donning hats of a director and a producer as well.
When asked which one he likes doing more, the actor said: "I won't say that donning the hat of a producer is my favourite one but I love doing it because it stresses you out too much. Rest as an actor or a director, I'm pretty much comfortable handling both, so I don't have to worry about that.
"Where direction is considered, I'm very comfortable because of my father. When I was 11 years old, I used to edit his sequences, which were very difficult for people to edit. It was a lot of training at that point of time because I loved my work and learned from it."
Devgan is one of the few contemporary Bollywood stars who recognize the importance of keeping the image trap at bay. He is quality-conscious, pragmatic and absolutely clear about what he wants to extract from his craft. This enables him to play characters rather than himself on the big screen.
At 46, he is a Bollywood elder statesman who has paved the way for many younger actors who want to strike a balance between action roles and emotionally nuanced characters. If screenplays with both depth and range are available today in Hindi mainstream cinema more freely than ever before, then the contribution of the likes of Devgn has to be acknowledged.