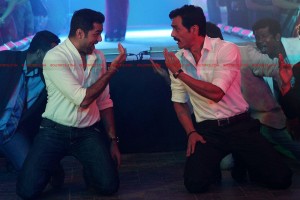 Arjun Rampal and Abhay Deol are currently shooting for Prakash Jha's film Chakravyuh which is based on the naxalite situation in the country. And in keeping with the mood of the film Prakash Jha has zeroed-in on some deep interiors as the locations of Madhya Pradesh for the shoot.
For the actors it is a huge change because both Arjun Rampal and Abhay Deol are known for their big city suave and debonair personalities. In this film they not only have to project a rustic persona but also need to shoot in areas that have no modern facilities.
In Chakravyuh Arjun Rampal plays a cop and Abhay Deol a Naxalite and so being the thorough actors they are who like to immerse themselves in their roles, they both went through workshops with Prakash Jha and spent time acclamatising themselves to a very different environment.
One of the main things, interestingly, that Arjun had to work on was his walk. According to a source close to the project, Prakasha Jha told Arjun he has to learn a new way to walk. "He said this model walk will not work, you have to walk like a cop. He actually made Arjun practice for four days, just walking up and down the hall until he had the walk of a cop. But Arjun knows how much Prakash Jha helped him in Rajneeti so he happily walked for four days to get his walk right." We can't wait to see how he struts like a tough cop and not the one of model on a catwalk.
Though they had to rehearse for almost a week before beginning work on the film, both have steadily gained comfort with their roles and environment and actually started enjoying the process. For Arjun, it's his second outing with Prakash Jha after Raajneeti but for Bbhay it's a first time experience that he is enjoying.
Stay tuned as we will be bringing you more from the sets of Chakravyuh!